Swedish fashion brand Acne Studios has opened its first Milan flagship on Piazza del Carmine in the Brera district. Situated away from the main shopping streets, the 165 sq m store has its own character, defined by the grand arch windows that line each façade, evoking symmetry and echoing the arches of the neighbouring church.
"It took five years to find the perfect place for us in Milan. I am so happy that we waited, because the Piazza del Carmine has the exact sense of individuality and community that I like. The store is totally unique, and also totally Acne Studios," says Jonny Johansson, Creative Director of Acne Studios.
The entrance is set in the middle window, to give symmetry to the store. Each window is filled with seamless glass, to create a sense of openness between inside and out. This is continued by the Rosa Baveno granite flooring, which is set at the same level as the Piazza outside, creating an easy flow from out to in.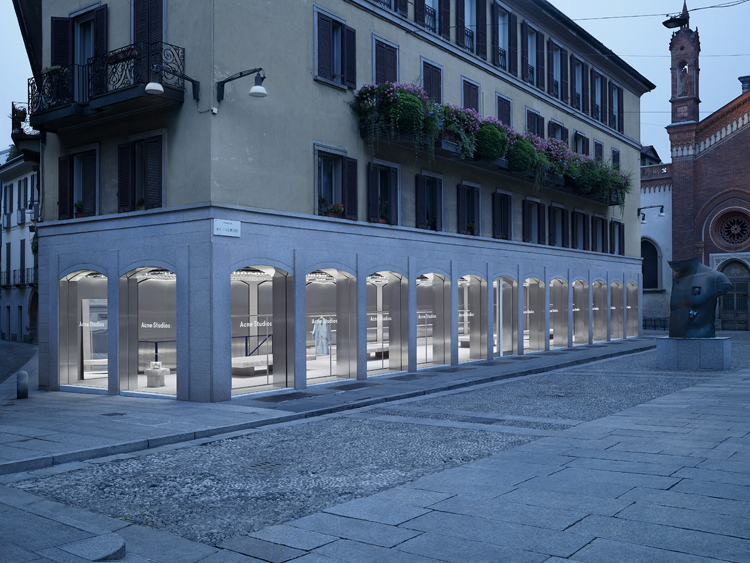 The walls of the store feature stainless steel arch shapes that exactly mirror the windows. These are surrounded by the same granite as the floor, which is also used by Acne Studios for the furniture. Granite tables and stools that are like ancient stone monuments, yet are set low, each at 45cm from the floor.
The Mega, a custom made lighting system exclusive to this store is attached to the pink ceiling, made up of two to five metres long aluminum lighting fixtures. Natural light will flood the store during the day, with the Mega making the store glow as soon as the sun goes down.
Shelves, rails and fixtures are made from signature Acne Studios stainless steel. The Rosa Baveno granite in the store was found in a local quarry in the Baveno region of Italy.
all images courtesy of Acne Studios