Award-winning studio Acrylicize has recently designed key art elements for Coca-Cola's new UK headquarters. Working in collaboration with MoreySmith, who were responsible for the overall interior design of the building, acrylicize have created the feature wall that celebrates Coca-Cola's iconic heritage. Standing as a key feature at the centre of Coca-Cola's new central London headquarters, the double-sided wall spans three storeys.
One of the stunning elements of the memorabilia wall is a 3D-effect pair of lips crafted from 35,000 drinking straws. Taking 96 hours to produce, withmcountless straws road-tested in the name of Art, the lips are backlit with a
glowing white light, illuminating each straw and hinting at the magic Coca-Cola taste at the other end.
A bespoke intelligent LED screen, made up of 5,000 recycled Coca-Cola bottles, also forms part of the feature wall. With a screen on each floor, each can run independently or form one giant screen that runs the length of the three floors, displaying a series of bespoke themed visuals designed by acrylicize.
The new office will house around 300 Coca-Cola employees from across Europe and will replace the company's previous offices in Hammersmith, W6.  The brand's new London base is a 1920s purpose built office block which has been refitted throughout. It is set over four floors, covering 66,000 square feet and features a roof terrace, café, meeting rooms, open plan office space and hot desk facilities.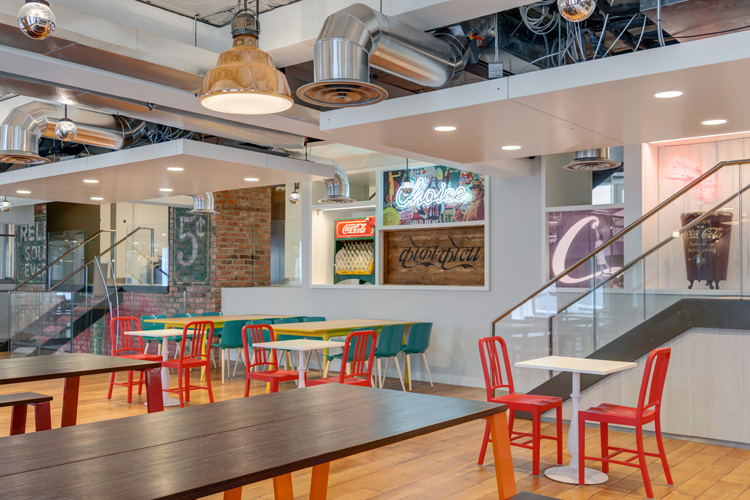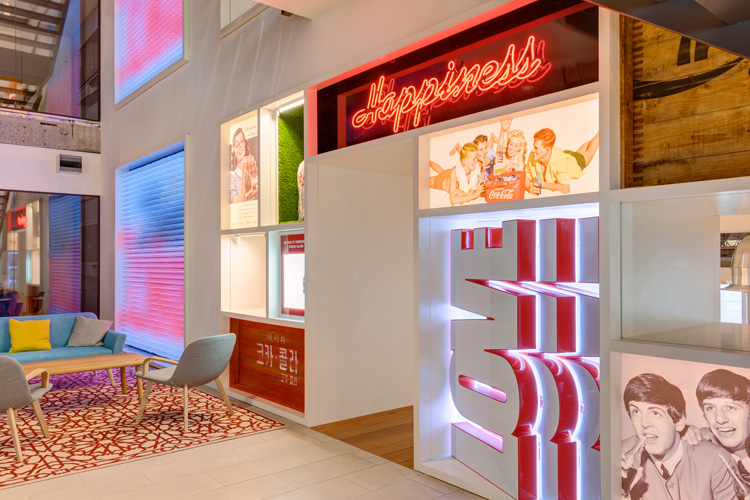 all images © NIKHILESH HAVAL – courtesy of ACRYLICIZE