Contemporary Chinese artist Ai Weiwei presents Law of the Journey, his first exhibition in the Czech Republic at the National Gallery in Prague. The exhibit presents a "multi-layer" series of projects that reflects the artist's time spent in over 40 refugee camps during the past year.
Himself a refugee, Ai has almost entirely focused his work on advocating the refugees' human rights and documenting their tragic condition throughout the past two years. The humanitarian crisis has become especially dire since 2015 when the influx of refugees into Europe from Syria and elsewhere escalated dramatically. It has been described by the U.N. emergency relief coordinator Stephen O'Brien as 'a slaughterhouse, a complete meltdown of humanity, the apex of horror'.
During his visits to refugee camps on the Greek island of Lesvos, or at the border between Greece and FYROM, Ai Weiwei conceived a number of art projects devoted to the contemporary global odyssey while filming the documentary Human Flow which will premiere in 2017. A devastating document of forced displacement, the film is 'a personal journey, an attempt to understand the conditions of humanity in our days'.
The exhibition Law of the Journey is Ai Weiwei's multi-layered, epic statement on the human condition: an artist's expression of empathy and moral concern in the face of continuous, uncontrolled destruction and carnage. Hosted in a building of symbolic historical charge – a former 1928 Trade Fair Palace which in 1939–1941 served as an assembly point for Jews before their deportation to the concentration camp in Terezín – it works as a site-specific parable, a form of (public) speech, carrying a transgressive power of cathartic experience, but also a rhetoric of failure, paradox and resignation.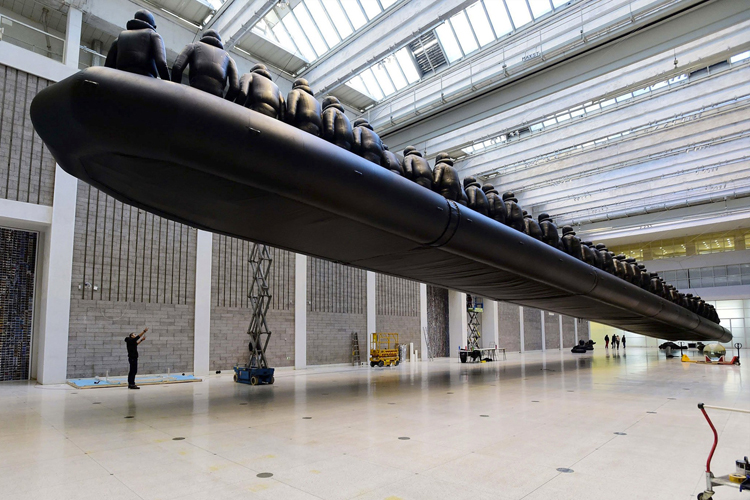 Like Noah's Ark, a monumental rubber boat is a contemporary vessel of forced exodus, floating hopelessly within the immense, oceanic abyss of the Gallery's post-industrial, cathedral-like Big Hall.  The overcrowded raft carries a mass of figures squeezed together, seemingly set for a journey across the unknown. Through this gesture of reconstructing a desperate act of escape, the artist seeks to pay tribute to the human tragedy of the present moment, and emphasize man's desire for a sense of a belonging.
The exhibition's title alludes to Walter Benjamin's reading of Franz Kafka's 'law of the journey (das Gesetz der Fahrt)' as 'a route of unexpected reversals and distortions that derange casual connections between origins and destinations, wishes and fulfillments, annunciation of messages and their reception'.
The accompanying selection of Ai Weiwei's previous works includes Laundromat (2016), a subversive portrait of dispossession and displacement, where the artist continues addressing the refugee crisis; With Flowers (2013–2015), Ai Weiwei's specific attempt at a commemorative self-portrait in times of confinement; Snake Ceiling (2009), yet another moving monument in Ai Weiwei's oeuvre, devoted to the 5,000 plus school children who lost their lives during a massive earthquake in China's Sichuan province in 2008; and a chandelier sculpture Traveling Light (2007), a reflection upon the past and its strength to project the future.
The exhibition is on view from now through January 7, 2018.
all images courtesy the National Gallery Prague