Alain Ducasse and Olivier Maurey, creator of restaurant Mini Palais and other Parisian haunts, has imagined "The Brasserie of the 21st Century", located in the heart of the 1st district of Paris under the Canopée in Forum des Halles designed by Patrick Berger and Jacques Anziutti.
The interiors are created by local designers of Ciguë. The space is very bright, thanks to the large bay windows through which the light pours in. Pure lines and raw materials give the venue both a warm and contemporary atmosphere. A monumental display panel of metal slats, identical to those used in airports, is the space's strong element – a sort of slate 2.0 – which displays information relating to the menu and the dishes, during the service.
Champeaux is a living space, Ciguë saw it as eminently functional. Storage room in the back of booths and in partitions, coat hooks on the walls, hooks under the bar, straps under the bar stools, all create storage for coats, bags and personal effects. The square tables can be assembled or separated along the benches, to reconfigure depending on groups. Plugs are at hand to charge your phone or laptop. Small details that make all the difference.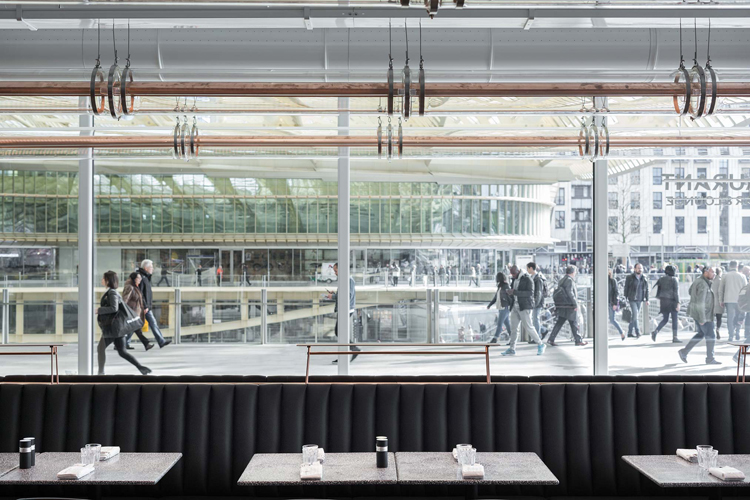 A running bar – central element of the room – is illuminated by an imposing aluminium chandelier. The terrazzo tables are surrounded by chairs, or black or tan leather banquettes with saddle-stich seams. The walls, coated in prairie green stucco confer freshness in the daytime and depth in the evening. Graceful copper suspensions as well as glass blown and copper luminary tubes diffuse gradient light, depending on the time of day; soft in the morning and warm in the evening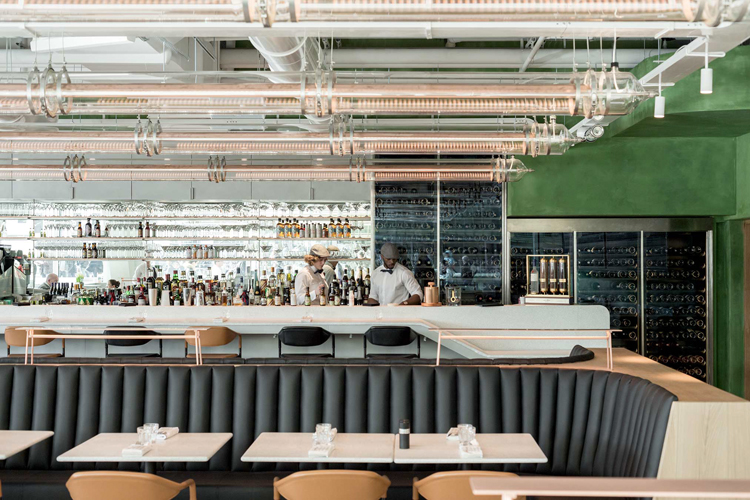 The name of the new restaurant is a reference to the location where, in the XIIth century, Louis VI established the large market which would become the precursor to the Halles. It is also a tribute to the restaurant Champeaux, founded in 1800, which was located beside the Bourse.
all images © Maris Mezulis