A 34-year-old University of South Wales design graduate has realized a miniature version of himself made from LEGO to hand out to potential employers. Andy Morris' quirky take on a classic curriculum vitae is presented as a customized minifigure: invited to "unwrap your newest employee," employers would find a plastic wrapped miniature version of Morris himself, complete with laptop carry bag, scaled CV and sharply dressed in a flat cap, red jacket, and grey pants.
On the reverse, the package contains his cover letter and contact details. Having previously worked in finance, Morris explains he "swapped paperwork and multi-million-pound accounts for a life of creativity" and claims he has "never been happier."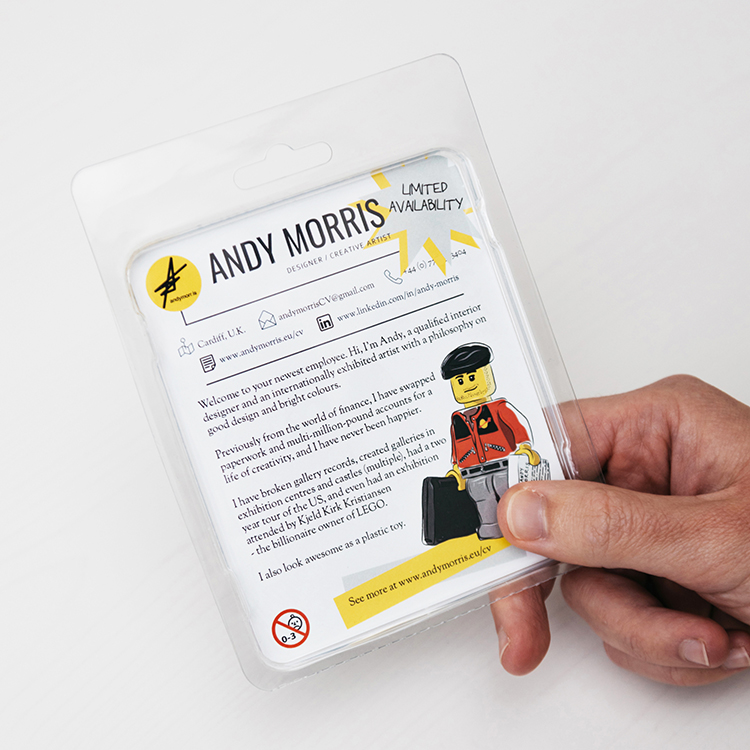 Morris spent two months gathering all the separate LEGO pieces to make a minifig that looked like him, and now has enough to make 100 individual figures to send out to potential employers.
"While conventional CVs are great for conveying past accomplishments, they're limited on what personality, creativity, and innovation you can inject into them," explains Morris. "Plus, who doesn't want to receive some LEGO through the post!"
Morris said he has only just started to send out the CVs, but has already had an interview offer from Cardiff-based ad agency S3.
all images © @shotbygoldcut