Through February 4, 2024, the Fondazione Palazzo Strozzi in Florence presents a major exhibition dedicated to the work of British-Indian artist Anish Kapoor, known for revolutionizing the concept of sculpture in contemporary art. Curated by Arturo Galansino, Director General of Fondazione Palazzo Strozzi, the show will feature monumental installations, intimate environments and thought-provoking forms that will forge an original and captivating dialogue between the art of Anish Kapoor and the architecture and audience of Palazzo Strozzi.
With a wide range of early, mid-career and recent works, including a new architecturally scaled work especially conceived for the Renaissance courtyard of Palazzo Strozzi, the exhibition offers an opportunity to engage directly with the artist's oeuvre in all its versatility, discord, entropy and ephemerality. Palazzo Strozzi becomes a venue at once concave and convex, whole and yet fragmented, in which visitors are called on to question their senses.
In Anish Kapoor's art, the unreal merges with the untrue, transforming or negating the common perception of reality. He invites us to explore a world where the boundaries between what is true and false dissolve, opening the doors to the realm of the impossible. One of the distinguishing features is the way Kapoor's works transcend their materiality. Pigment, stone, steel, wax and silicone, to name only a few of the materials he works with, are manipulated – carved, polished, saturated and formed – to the point of a dissolution of boundaries between the plastic and the immaterial. Colour in Kapoor's hands is not simply matter and hue, but becomes an immersive phenomenon, containing its own spatial and illusive volume.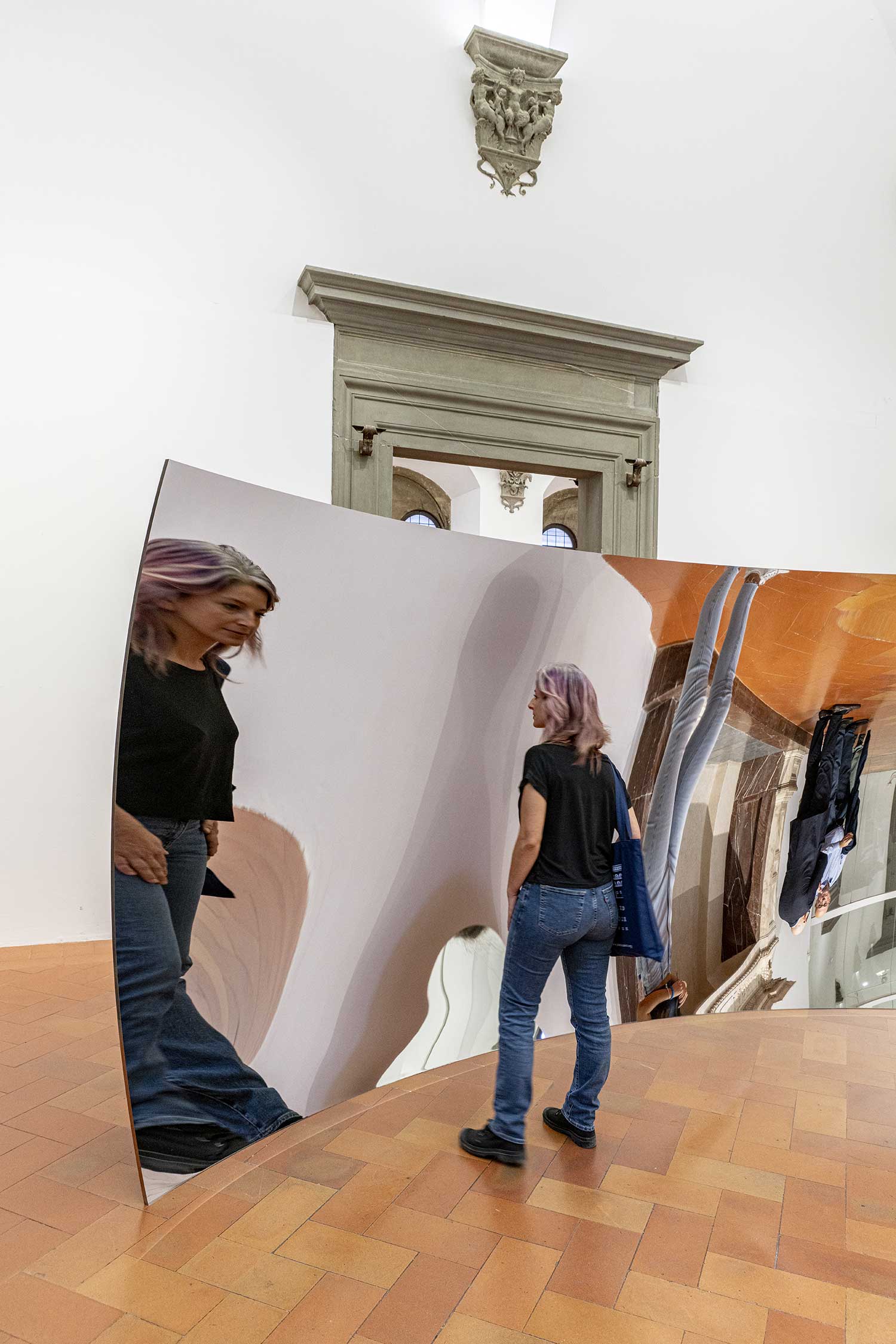 Kapoor's works merge empty and full space, absorbing and reflecting surface, geometrical and biomorphic form. Shunning categorization and distinguishing himself by a unique visual language that embraces painting, sculpture and architectural forms, Kapoor explores space and time, the interior and the exterior, urging us to probe in the first person the limits and potential of our relationship with the world around us and to reflect on perceived dualities such as body and mind, nature and artifice. His work sparks amazement and uneasiness, encouraging us to question certainties and embrace complexity. In a world where reality seems increasingly elusive and manipulable, Anish Kapoor challenges us to seek truth beyond appearances, inviting us to explore the territory of the untrue and the unreal.
Arturo Galansino, General Director of the Palazzo Strozzi Foundation and curator of the exhibition states: "In the wake of our series of exhibitions dedicated to the leading figures of contemporary art, Kapoor has engaged in a direct dialogue with the Renaissance architecture. The result is entirely original, almost a kind of dialectical juxtaposition, where symmetry, harmony, and rigor are called into question, and the boundaries between material and immaterial dissolve. Amidst the rational geometries of Palazzo Strozzi, Kapoor invites us in this exhibition to lose and rediscover ourselves, prompting us to question what is untrue or unreal."