Bogdan Ciocodeică Studio has recently refurbished an apartment located within a building dates back to the 1930s in Romania's capital Bucharest. In the past 80 years, the space has retained its original layout and finishes. However, the new owners – an architecture and design enthusiast young couple – required alterations to the existing interior to meet their requirements. The core element of the new intervention was to keep and renovate as much as possible of the original components and to reorganize functionally the apartment, in spite of the impossibility to change the layout of the walls, due to structural reasons, and without losing its intrinsic values.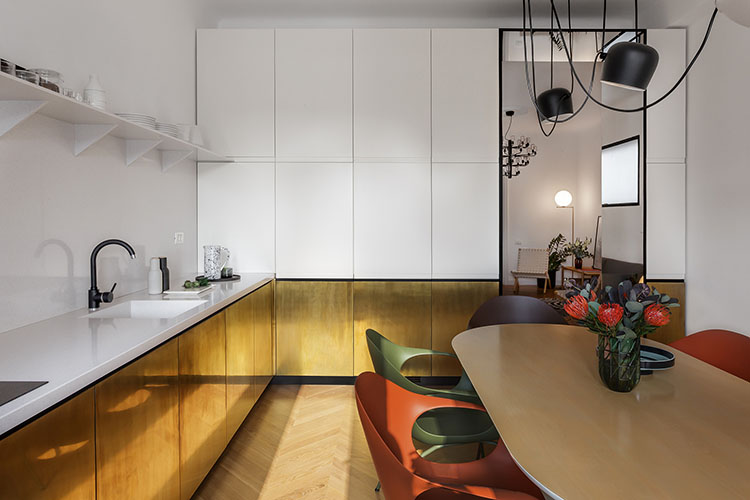 The original layout of the apartment was composed of two different areas: the main representative living and nighttime functions, composed of the main entrance, living room, dining room and master bedroom with bathroom, and the secondary functional area of the kitchen and maid's room, with its own entrance and bathroom, an area that typically was much smaller.
The new functional layout erases the functional differentiation between the segregated parts and integrates into one single scheme all spaces, by including in the main living area the kitchen, an important component of our contemporary way of living and social interaction. The former service quarter of the apartment was transformed into a small home office, convenient for the everyday use and discreetly separated from the rest of the apartment.
The main functional and aesthetic feature of the project consists of the fluidity of the daytime spaces, linked in a sequence of alternating places designed for different levels and ways of interaction within and of the couple. Architecturally the contemporary character lies in the reinterpretation of the original values and materials. The old, but renovated windows, doors and heaters are matched with the new hardwood flooring and the vibrant combination of the original and new tiling, brass and mirror furniture finishing and signature furniture pieces.