Audi has taken the wraps off the new 2019 A7 Sportback, which embodies a new style of Gran Turismo, with dynamic lines, systematic digitalization, a sporty driving experience and a versatile space concept.
After plotting the next stage in the evolution of the autonomous vehicle, Audi takes inspiration from the previously-unveiled Prologue Concept for a sleek, bold A7 that comes with a Singleframe grille, attention-stealing headlights, a "sculpted hood," sporty aesthetic, "flowing roof" and sharp, gaze-stealing style. Inspired by the structuring of yachts, Audi looked to create an A7 Sportback unlike any other car on the market. From upper-class elegance to forward-thinking technology, this car has it all.
For the 2019 Audi A7 Sportback, expect many interesting, worthwhile options, such as a "virtual cockpit," "head-up display," "ambient lighting package," voice control, Valcona leather interior, a diverse array of driver assistance systems and a Bang & Olufsen audio system.
With the AI button, the driver activates the Audi AI remote parking pilot and the Audi AI remote garage pilot, which will be made available at some point in 2018. They autonomously maneuver the A7 Sportback into and out of a parking space or garage. The driver can get out of the car before launching the function via the myAudi app on their smartphone.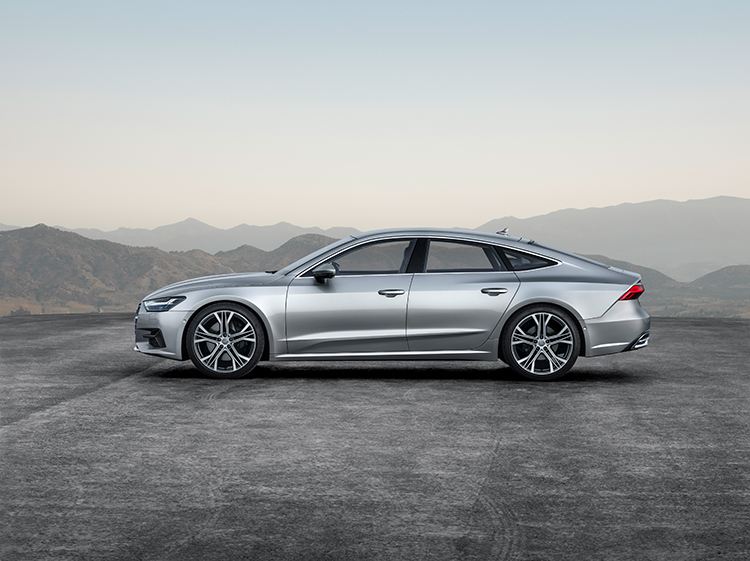 Going under the hood and digging deep into the strengths of the new A7 Sportback, enthusiasts can expect a turbocharged 3.0-liter TFSI V6 engine with 340 PS and 500 Nm of torque. A seven-speed S tronic transmission is also included, while a quattro all-wheel drive system propels the vehicle to accelerate 0-62 mph in 5.3 seconds before clocking in at a "top speed" of 155 mph. Concerning handling, Audi promises a build that's "more agile, nimble and comfortable."
The new Audi 2019 A7 Sportback will hit the German market in February and is set to retail for about $80,000 USD.
all images courtesy of Audi AG