Canadian waterside design company and paddleboard expert Beau Lake has unveiled Runabout, a luxurious, human-powered paddle boat. Designed for performance and comfort, detailed for elegance and built to endure, the Runabout revolutionizes the human-powered waterside experience by delivering a truly Beau Lake state of mind.
Building on the success of the company's paddleboard line, Lee Kline, co-founder and design director for Beau Lake, found further inspiration in the vintage elegance of partner Paul Lavoie's 1950s Mediterranean-style 'pedalo', constructed with square wooden pontoons and mahogany seats.
The ground-zero challenge for Beau Lake was how to incorporate the elegant look of vintage craftsmanship into a high-performance, low-maintenance product built with modern design techniques. Drawing upon key shapes borrowed from classic boat designs of the 1950s and '60s, Kline's early sketches evolved into a model based on a reverse transom, where a slanting deck gives the boat a visual sense of forward motion. Once the visual aspect was complete, the company embarked on a quest to transform the Beau Lake state of mind into another tangible product.
"Before being a designer, I'm a builder, with a heavy focus on materials, construction techniques and processes," explains Kline. "There are merits to be found in the materials and processes of the past, present, and future, so collaborating with experienced people from a wide variety of backgrounds has been my entire MO in life."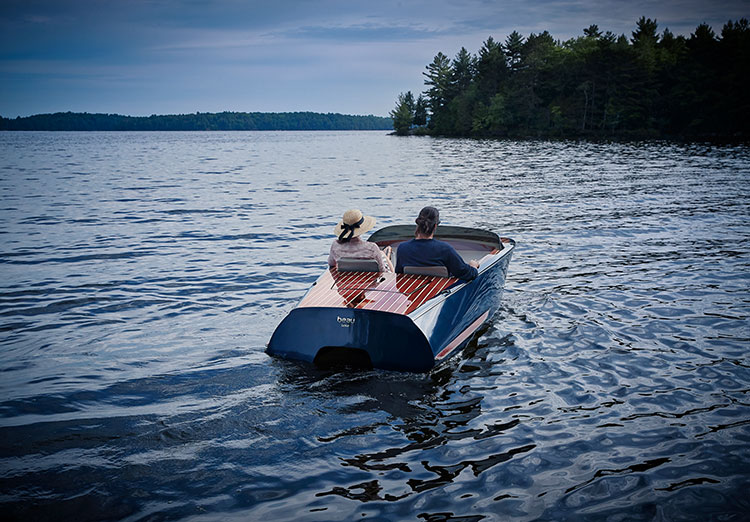 Beau Lake explored many possible collaborations before bringing in Steve Killing, whose years of progressive experience range from yacht designs of the 1960s, to the ultra-modern hull and keel designs of foil-driven America's Cup vessels. Working closely with Beau Lake's experienced fiberglass builder, the growing team developed a tunnel hull design for the Runabout. Next up was the pedal boat's drive mechanism, which presented the challenge of transferring pedal energy into propeller movement that would be both silent and highly efficient.
"I wanted it to do everything, but sometimes the best design is the most elegant solution, which looks great, is mechanically understood and enjoys the greatest longevity," says Kline. "But I remained married to the concept of having a retractable, turning drive unit."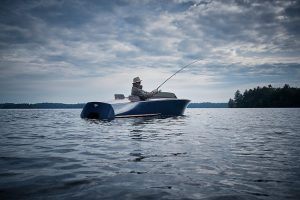 After tinkering with sub-assemblies, gears and complex design elements, the Beau Lake team developed a simple mirror-polished stainless steel drive shaft which connects to the Runabout's propeller, eliminating noise and surface splash by containing propulsion action beneath the water's surface.
Built for excursions, sunset cruises and lake explorations, the Runabout's molded fiberglass body, inlaid veneer deck and beautifully finished stainless steel castings and hardware invoke the essence of a Beau Lake state of mind. Added luxury includes one-inch thick leather seat covers that snap off for easy storage, a Bimini cover for weather protection and a compartmentalized cooler that contours to the boat.