Everyone can make their home more comfortable and breathe new life into the interior. You only need to have a desire and a faithful assistant of a modern person – a smartphone! Let's look at free design apps that are worth paying attention to become more experienced in the arrangement of residential space. Or if you just want to be inspired by a nice and truly stylish change.
Visualizing the space
Let's start our design path by addressing global issues and look at the room as a whole. To do this, you need to recreate it in a 3D visualization format. Not only an expert with experience can perform this task. Using a successful application, even a novice can cope with the development of a room plan.
Planner 5D
The Planner 5D app allows you to learn the basics of design easily and quickly without any special skills. The developers have made the interface as intuitive as possible. Create the layout you need, try on the interior style you are interested in, choose nice textures and colors, and start furnishing. And then evaluate your creation by walking around the newly renovated room in virtual walk mode!
Roomle
Roomle is also a fairly easy-to-use interior designer with a cool distinctive feature. This app supports the augmented reality feature. You can use it to see how a particular piece of furniture will look in your room. To do this, simply point your smartphone camera at the desired location in the room. Not every application can give you such a realistic idea of how a particular piece of furniture will be appropriate in the context of a particular room.
By the way, it is very easy to share ready-made projects created in Roomle. You can send them to your friends via social networks or via email.
Selecting a color combination
So, the plan of the room is developed, the furniture is put in place. You have probably already outlined your first ideas for the color scheme of your project. Although room designers offer ready-made color solutions, it is better to make sure that the shades you like are compatible using applications that specialize in this area.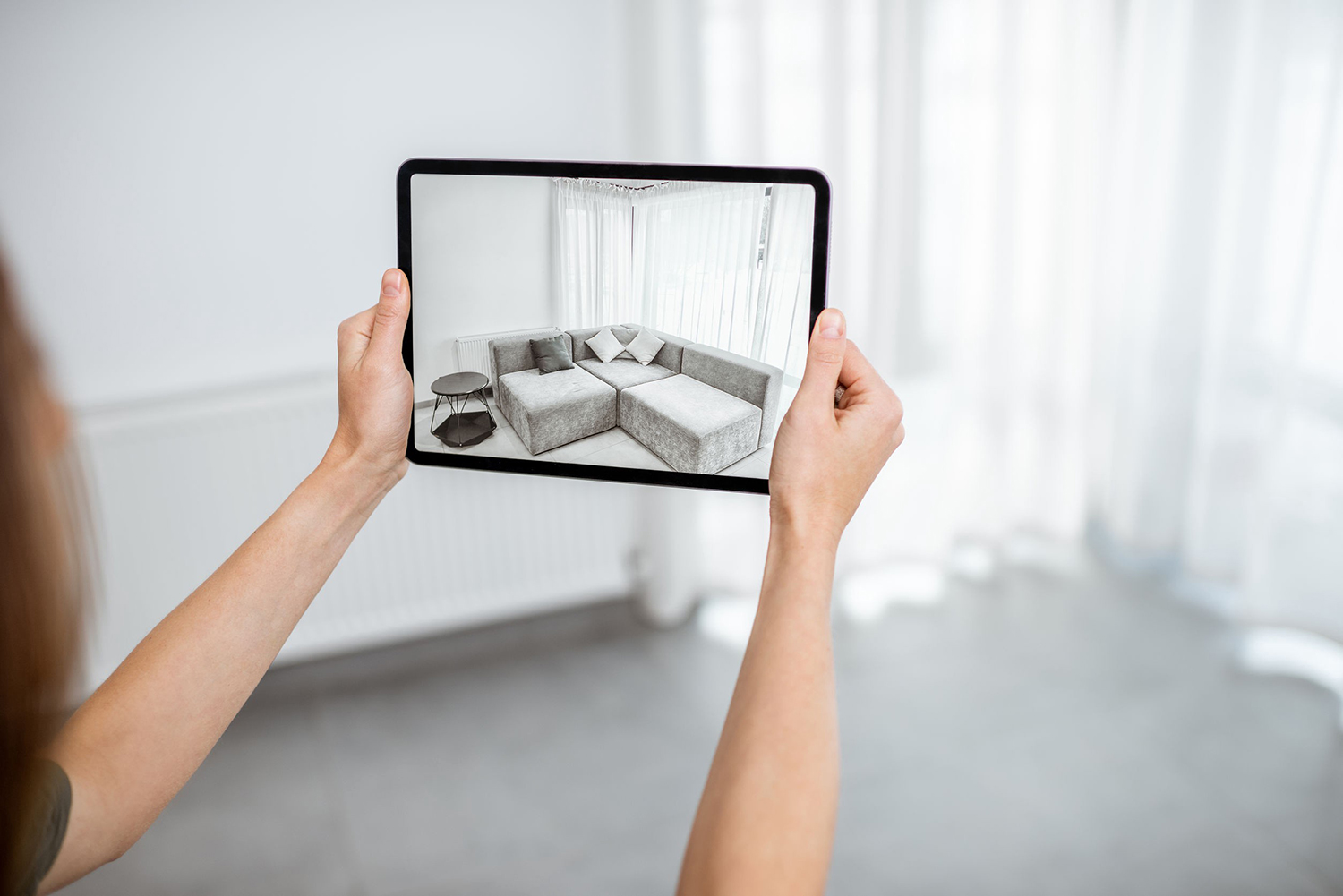 Pantone Studio
Adherents of Apple devices should pay attention to the application from the world expert in the field of color — the Pantone company. You will find the Harmonies function useful: you will get a selection of perfect combinations for any base color. Doubt whether screaming fuchsia will harmonize with delicate coral? The app will give you a clear answer to this question.
ColorSnap
Android users will find the ColorSnap app useful in solving color questions. With its help, you can pick up a shade of color that you like. Take a picture of the color you are interested in on your smartphone, and the application is looking for a match in the catalog of its paint company. After the program finds a match, you will be given an RGB code. Knowing it, you will find "the same" shade among the paints of any company.
Getting inspired
Now that we've figured out a lot of things, it's time to look for inspiring examples. With an experienced eye, it is much more interesting to evaluate beautiful interior pictures — it becomes clear how much time/labor/material costs will be required to implement a particular project.
Houzz Interior Design Ideas
This app is a treasure trove of ideas and pictures of interiors from all over the world. Houzz will help you not only develop a good taste but also find useful tips: both from simple users and advanced specialists. Discussions unfold under the interior pictures. From there you can get a lot of different information, up to where to buy specific decor elements.
Training on a simulator
Design ideas are drawn, knowledge on their implementation is obtained, and systematized. Before you undertake a large-scale alteration in your own home and advertise your design skills to friends, you should test yourself in a convenient game application.
DesignHome
The essence of the DesignHome game is the following: you need to furnish different rooms, following the wishes of customers. There's a certain amount of money that you have to do to make as many projects as possible. The conditions are very similar to real life, aren't they?
Get as many points as possible from the users of the game, believe in yourself, and quickly put all the acquired skills into practice!