Adding new layers of reclaimed materials, texture, pattern, plants and colour, British designer Morag Myerscough has created a vibrant, welcoming and joyful café and bar inside the Bernie Grant Arts Centre in London, which was designed by architect David Adjaye. With contributions from artists Yemi Awosile and Luke Morgan, the transformed spaces embody the venues commitment to promoting and supporting artists and connecting them in a direct conversation with local residents, audiences and visitors.
Luke Morgan has designed and made the dining tables with painted tops by Morag Myerscough, while Yemi has been working on the seating in the gallery area, which will be installed shortly.
The Bernie Grant Arts Centre first opened to the public in Autumn 2007 and bears the name of Tottenham's late legendary black MP Bernie Grant (1944–2000), whose vision for a fairer Britain and a fairer world inspired him to embark on creating the complex. Bernie was a huge supporter of the arts, recognising the critical role that they could play in tackling structural inequality and promoting positive social change. If they were to do so however, Bernie felt that the arts community and the arts establishment in particular, needed to be more reflective of the communities that they aimed to serve.
With its 20 creative workspaces and extensive rehearsal rooms the Bernie Grant Arts Centre is a real hothouse for creatives – supporting a wide range of diverse artists and creative industries living and working in Tottenham. However for many of these artists their work and their creative processes remain discrete, hidden from the public gaze and only made visible for relatively short periods of time in the venues state of the art theatre, gallery or outdoor spaces. The café redesign makes visible, familiar and tangible the artist's creative processes at the very heart of the building.
Building on the concrete and hard wood materiality of the Bernie Grants Arts Centre designed by architect David Adjaye 10 years ago, Morag Myerscough has introduced new layers of texture and colour to invigorate a space that had become tired over time. She has been done so by using reclaimed materials, making bespoke textiles and ceramic tiles, making new and changing old furniture, adding a huge amount of houseplants and adding colour to the walls. She has also created additional spaces for artists to add in their own additional layers and textures as part of a planned commissioning programme over the next few years.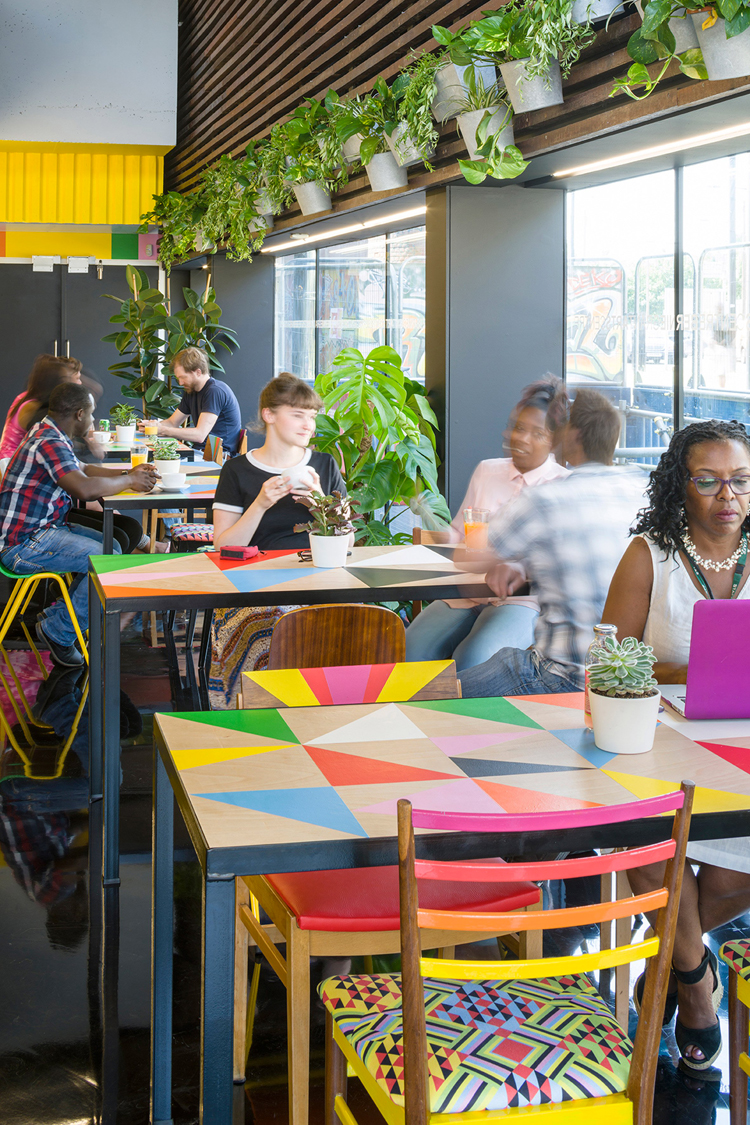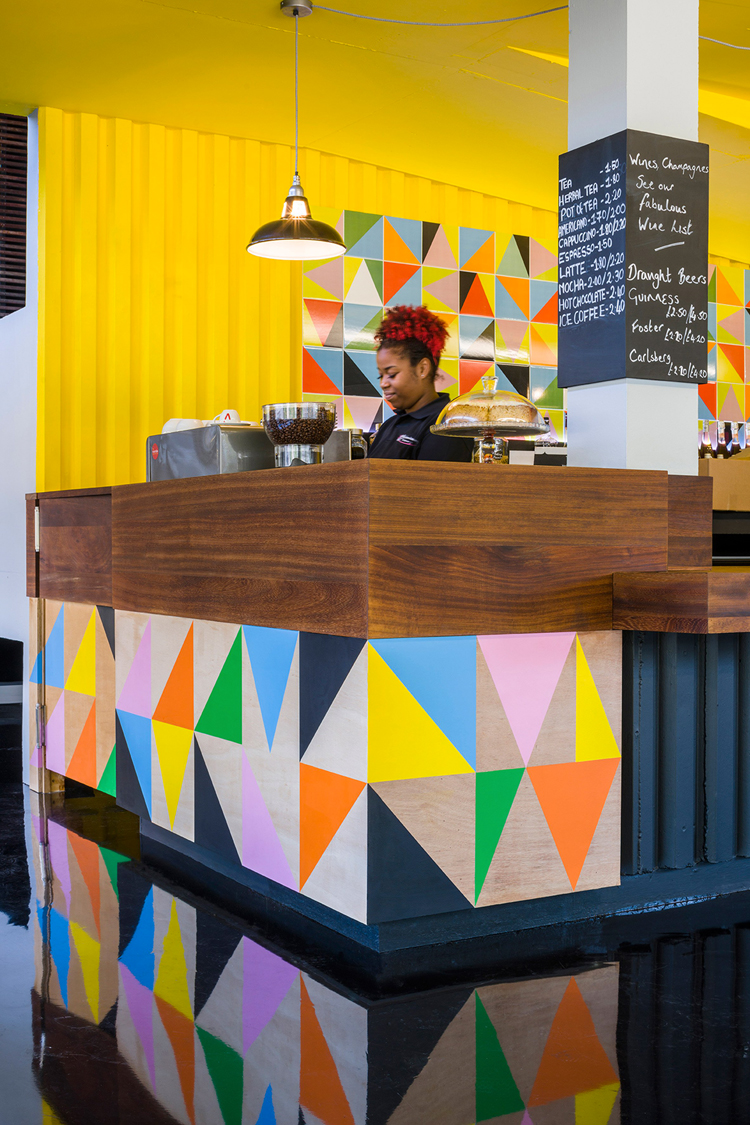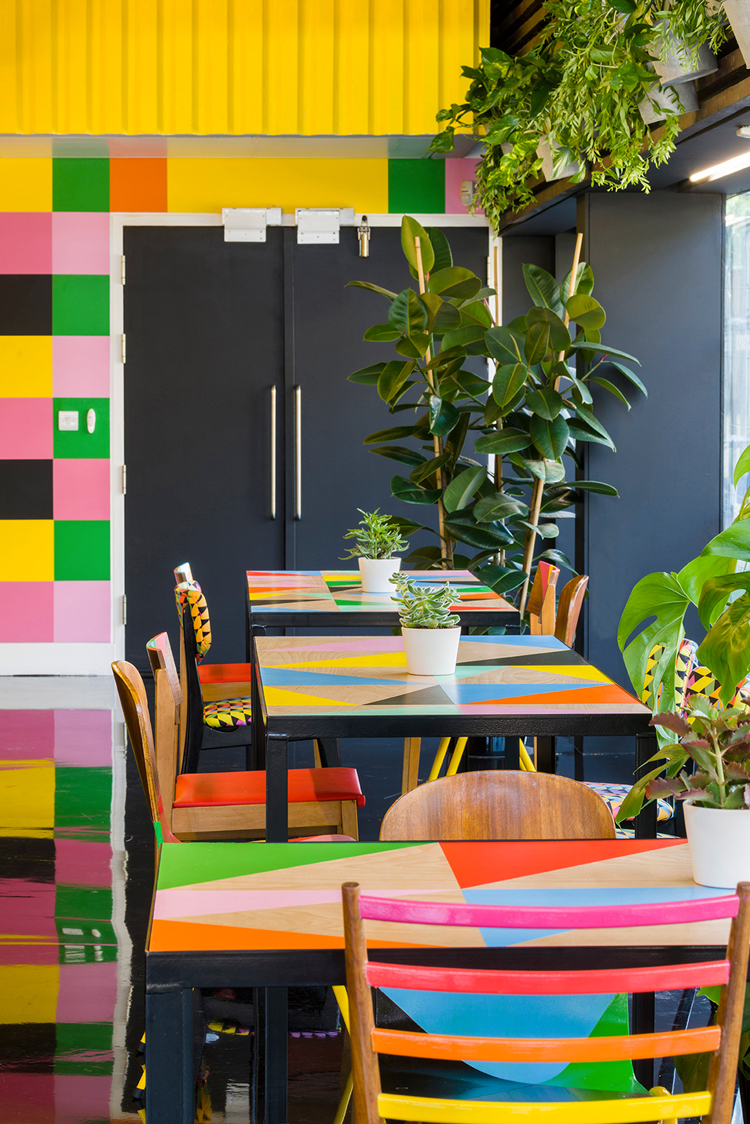 all images © Gareth Gardner