Whether you are a bookworm who finds comfort in reading, or someone who is trying to build a habit of reading, you need the right reading nook.
Here, we are going to help you create the best possible setup for reading. We are going to talk about the necessities, including the best lighting setup when reading a book while sitting in a chair.
With the help of this article, you will be able to create your own space for reading with things you most likely have at home. So, if you want the perfect reading atmosphere, keep on reading!
Things You Need for the Perfect Reading Corner
To create the perfect reading environment, you need a combination of things, most of which you can find at home. 
1. Comfortable Chair
Comfort is something everyone looks for, especially when reading a book. While some people read to obtain great knowledge, some read to escape reality. 
No matter your intentions, you should opt for a comfortable and cozy reading environment. And to obtain that, you need a big comfortable chair.
2. Throw Pillow
Once you've got yourself a chair to your liking, you will need a throw pillow for optimum comfort. 
3. Throw Blanket
In addition, you can get yourself a soft blanket to keep you warm and cozy. 
If possible, try to surround yourself with a bookshelf or just arrange books near you to take your special corner to the next level.
Now that we have discussed some of the materials required to obtain a comfortable reading environment, we will take a look at the most important part of getting the perfect reading corner. And that's appropriate lighting. Given below is the guide to choosing the right kind of lighting setup for you.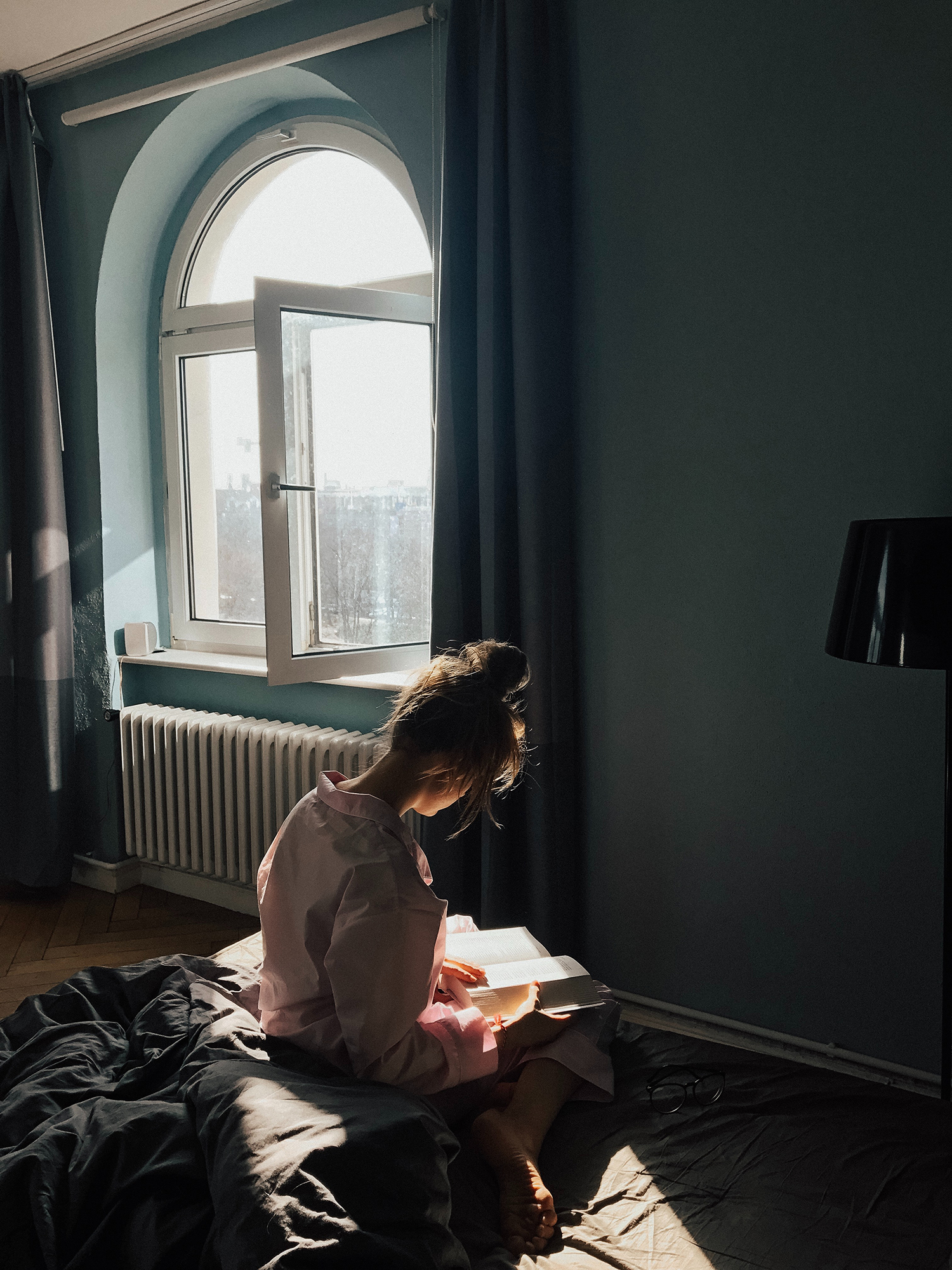 How to Get the Best Lighting Setup for Reading a Book

 
Here, I'll tell you how to get the perfect lighting setup.
Natural Light
Try to place the chair you have chosen right next to a big window. That way, you will get enough natural light to enjoy your book during the day.
Natural light is beneficial to health in a number of ways. The optimal use of natural lighting will not only minimize your optical exhaustion but also boost overall physical and mental health, increase reading efficiency and research performance, and to some degree, minimize energy usage.
So, the best possible lighting when reading a book, be it for pleasure or research purposes, is natural lighting. However, it may not be possible for everyone to have access to sunlight from within the house. So here's the next best option.
Floor Lamp
Now, don't be disappointed if you don't have access to a window in your reading corner; we have got you covered.In fact, even if you do have enough natural light coming into your reading space, you will need to get one of these if you intend to do any reading during the night or even evening.
So, what are these? Floor lamps are those tall lamps that have raised poles constructed to stand upright on the floor and provide light from the top. You need to position it right next to your reading chair. That way, the lamp will provide light to you from the top. 
There are quite a lot of different kinds of floor lamps. Among them, these are the most suitable. Not just because they provide the best light, but because they are easily accessible. In fact, it is very likely that you already own one of these.So, here are the preferred types of floor lamps. 
These are the floor lamps that include poles that bend downwards after a certain height and provides you direct light from above.
And these are the floor lamps that have triple base poles with the light at the top. We have another alternative in case you don't have this either. 
Now, these are the most common floor lamps that include raised poles with the light at the top. You can use this almost as efficiently as the other two. 
However, if you have neither of the mentioned lamps, you can just buy one. There are quite a lot of inexpensive options out there. 
Warm Light
Whichever lamp you decide to choose, always go for a warm light. 
Warm light makes you comfortable; it helps you relax. If you read in warm light, your eyes will not undergo any pressure, and you will be able to rest well afterward. And that is something that can't be said about white light. White light is quite harsh and painful for the eyes, whereas the warms light is quite the opposite.
So, always opt for warmer light. Not only will it make your reading more enjoyable, but it will also help you the rest of the day.
Lastly, make sure not to use too many different lighting, especially colored lightings, in your reading space. This is because most reading areas are quite small, and if there's too much going on around, you will not have a pleasant reading experience. 
In fact, it will be quite the contrary. So, try to maintain a minimalist space for your reading corner in terms of accessories and, most importantly, lighting.
Conclusion
Now that we have explained the factors you need to consider while setting up a reading space, we hope you will be able to utilize it.
If you follow the directions from the article properly, you will be able to get the best lighting setup when reading a book while sitting in a chair.
Check our more chair related article here.