Danish firm BIG and London-based Heatherwick Studio has unveiled  the images of the Google's new 316,000 sqm headquarters located in Mountain View, California. The concept for the North Bayshore campus is to create lightweight block-like structures that can be moved around, rather than investing in permanent buildings. According to Google, this will offer flexibility as the company invests in new product areas.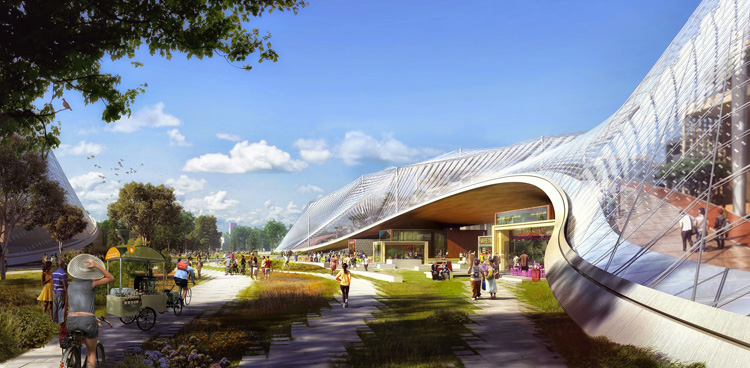 Translucent canopies will cover buildings and outdoor areas, designed to control the climate whilst also allowing natural daylight and ventilation throughout the facility. Cafes and local shops on the lower levels open into interior open walkways under the canopy. "With trees, landscaping, cafes, and bike paths weaving through these structures, we aim to blur the distinction between our buildings and nature," explain Google team on its official blog.
"This project is about much more than just office space; it's about doing more with the local community as well", explained David Radcliffe, Google's vice president of real estate. "We're adding lots of bike paths and retail opportunities, like restaurants for local businesses. We also hope to bring new life to the unique local environment, from enhancing burrowing owl habitats to widening creek beds."
"We scoured the world looking for a special architect who could really do something different," adds Radcliffe. "We really got down to what we believe are the two best in class."
"When we met each other in mountain view we thought it would be interesting to work with each other, and google, to come up with something that would be much more creative than anything we could have come up with ourselves" said Bjarke Ingels.
"When you visit the Google Campus there are lots of trees," explain Thomas Heatherwick, "but there's this constant undermining of that by the road system and the infrastructure required for all of those cars. It feels like trees are street furniture."
"Everything has turned into parking lots," continues Ingels. "We are trying to reverse this process and recreate some of the natural qualities that have been there in the first place. To transform the sea of parking that you find today, into a natural landscape where you will find an abundance of green outside, but also inside."
all images and video courtesy of GOOGLE