Architecture firm Bohlin Cywinski Jackson has recently completed the first of a series of new Blue Bottle Coffee, located in San Francisco's South Park neighborhood. The 365 sqm location transforms the street-level storefront of a former Kohler warehouse into a light-filled, minimal interior space.
The design reveals the site's inherent beauty by enhancing the most essential attributes of the architecture, such as original brick walls and wood support columns, improving the visible connection to the bustling SoMa streets. Upon entering the café, a network of floating wooden boxes greets customers, creating a series of shadows and sunlight throughout the space; bags of coffee and serveware available for purchase are nestled within the framework, creating an eye-catching merchandise display.
A palette of warm wood, pale blue walls and concrete flooring complements the company's branding and the craft of coffee making that is the hallmark of Blue Bottle. Coffee making is incorporated into a crisp stainless steel and birch plywood bar. Patrons can sit and sip coffee on solid ash benches throughout the space, as well as banquette seating placed along the windows.
"Blue Bottle understands the value and role of good design, and wants to make their store experience match the quality of their coffee," said Greg Mottola, a design principal with Bohlin Cywinski Jackson. "Their interest in maintaining the unique characteristics of each space, and using humble but beautifully detailed materials, is consistent with our interests in making great places for people."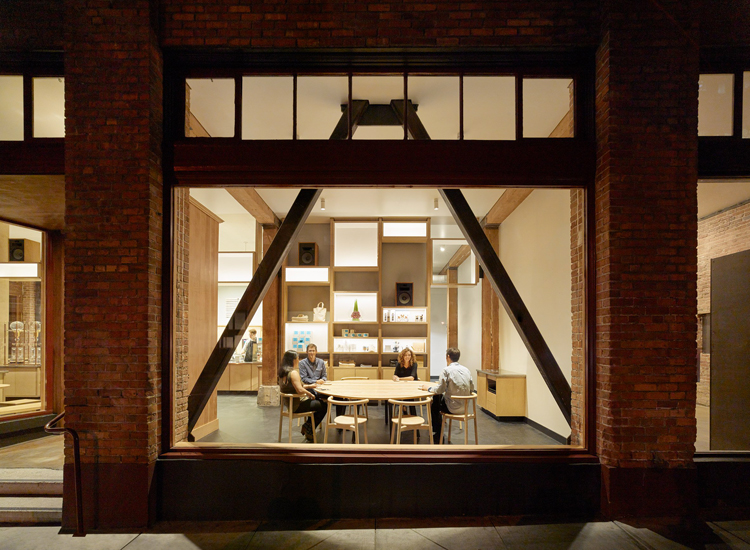 all images © Matthew Millman