Canadian company Bombardier has unveiled a new plane to accommodate overweight passengers. The new CS100 aircraft features middle seats that are 19 inches wide – making them broader than both the Boeing 737 seats (17.3 inches) and Airbus A319 (18 inches). Window and aisle seats will measure 18.5 inches .
The aircraft, which has a 100-150 passenger capacity range, is also said to offer wider aisles, larger luggage bins, and the "largest windows in the single-aisle [aircraft] market" – all aimed to create a "wide body feel" and offer passengers an "unparalleled level of comfort", the company said in a statement.
The plane was developed following a request from a number of commercial airlines that wanted an offering more comfortable for today's fliers, according to Ross Mitchell, Bombardier's vice-president of commercial operations.
"We went to airlines and asked them what the appropriate sizes were. They said 18-19 inches because it gives people more room in the seat. Airlines were looking to have an option with more comfort," Mr Mitchell told The Guardian.
Bombardier delivered its first CS100 aircraft to Swiss International Air Lines in June. It is scheduled to enter service on 15 July 2016, making its first commercial flight from Zurich to Paris-Charles de Gaulle. According to the company's statement, the plane will also fly to Manchester, Prague and Budapest, Warsaw, Brussels, Nice, Stuttgart, Hanover, Milan, Florence and Bucharest.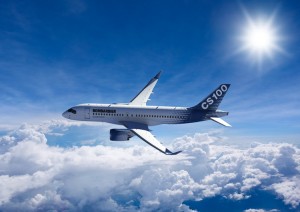 all images courtesy of Bombardier