British designer Thomas Heatherwick has completed a new distillery for gin company Bombay Sapphire in Laverstoke Mill, Hampshire – England. Heatherwick has leaded the renovation of a cluster of existing red brick buildings and added two glasshouses where the 10 botanicals – juniper, lemon peel, grains of paradise, coriander, cubeb berries, orris root, almonds, cassia bark, liquorice, angelica – chosen for the unique taste of Bombay Sapphire are grown on display.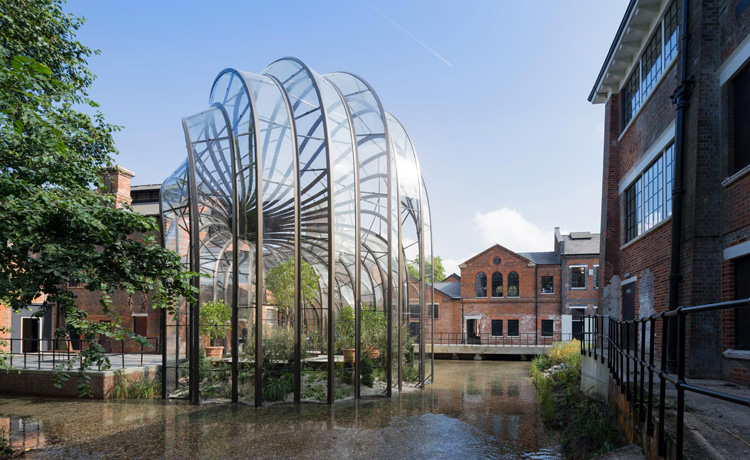 The newly restored site provides an opportunity for the public to explore Laverstoke Mill as a state-of-the-art gin distillery and world-class visitor experience that marries the site's history and beauty with the highest standards in design, functionality and sustainability.
For more than 200 years, the mill produced high quality paper for the bank notes of England. The mill expanded with the growth of the British Empire. During Queen Victoria's reign, it rose prominently and Laverstoke Mill began making bank notes for England's newly acquired lands, including India. This deep-rooted heritage connects the story of England, Laverstoke Mill, India and the 1761 British recipe for Bombay Sapphire.
The two hectare former brown-field site, just 60 miles from London, is an impressive collection of 40 buildings – showcasing many fine examples of Victorian and Edwardian architectural styles. The utmost care was taken to retain as much of the original buildings as possible balanced with the modernity of the British-made spirits brand.
The Bombay Sapphire Distillery at Laverstoke Mill also features the Empire Room, a new advocacy and training centre to educate the world's top bartenders.
For more information about the Bombay Sapphire Distillery at Laverstoke Mill and to book tickets, visit distillery.bombaysapphire.com. The Bombay Sapphire Distillery at Laverstoke Mill will open to the public on 1 October, 2014.
images © IWAN BAAN courtesy of BOMBAY SAPPHIRE