Design firm Home Studios has recently revamped this 2000 square feet (186 square meters) family apartment in New York's NoHo neighborhood. With Bond Street, Home Studios envisioned an updated and modern residence that defies the conformity of a typical unit. Featuring a diversity of expression, design influences and materiality, the end result is a welcoming three-bedroom, two-bathroom residence that celebrates a clean and cohesive design language. Originally built in 1925, and renovated last in the 1980s, Home Studios gut-renovated the entire apartment in an effort to rework and maximize the open floorplan, keeping only a portion of the original maple floors.
Dedicated to the exploration of unexpected details, the studio designed ten new site-specific furniture and lighting pieces in collaboration with local long-term fabrication partners, including an oak and copper Vesper Console and a custom Swing Pendant that illuminates the dining room. In addition to Home Studio's custom pieces, a thoughtful selection of furniture was sourced from a balanced blend of both vintage and contemporary designers, including Chen Chen and Kai Williams, Sabine Marcelis and Max Lamb.
The brightly lit open-floor plan, ornamented by copper and oak detailing, is connected by arched contours and a rounded and raised ceiling, providing a heightened sense of place and playfulness. (The curved geometries of Alvar Aalto's work being one of the project's many design inspirations.) In the guest bathroom, the curves continue. A bowed glass window with copper detail sits above a tiled sitting nook with a teak wood towel storage unit is nestled underneath. Custom handmade mosaic tiles and copper trim frame the deep soaking tub. In the master bathroom, a vanity constructed in honed Arabescato Classico marble is complemented by Waterworks fixtures.
Home Studios added a custom pocket door to the bedroom hallway allowing selective privacy from the living space, while the two-door utility in the guest bathroom provides access from both the bedroom hallway and living room. The master bedroom features a Landon Metz painting over a custom walnut and travertine master bed by Home Studios, with a Natalie Hererra vase adorning each side table. Next to the window, a vintage French lamp from the 1940s is paired with an Atelier de Troupe Jia chair.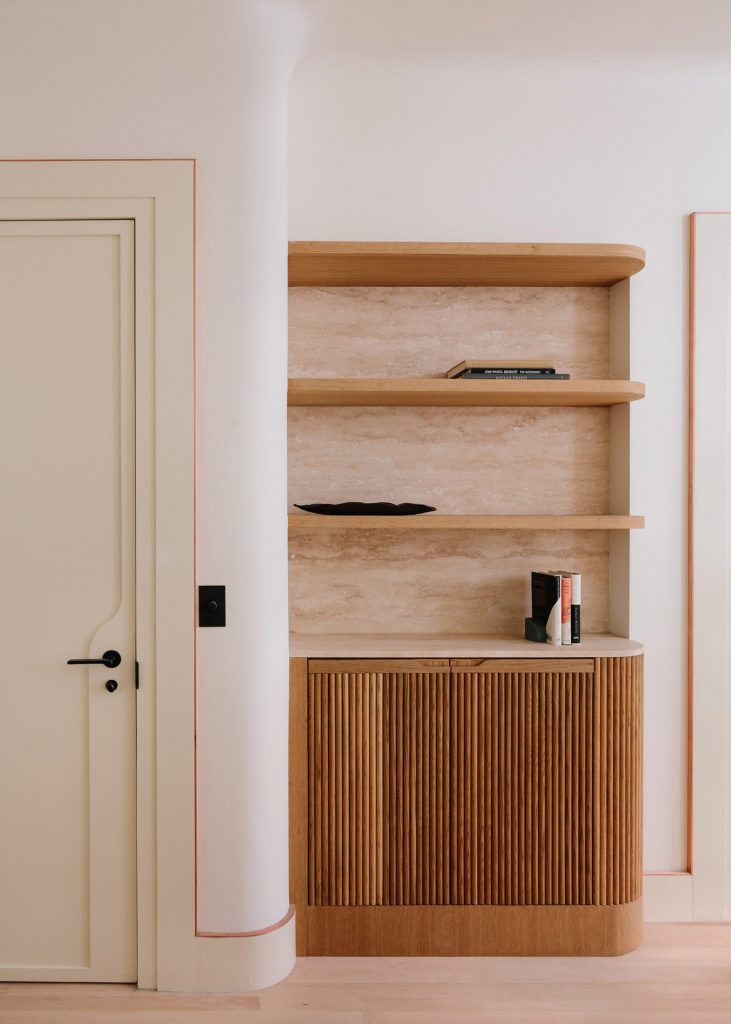 The Vesper Console is decorated with bookends by Chen Chen and Kai Williams, anchoring the focal point of the open living room. A Howard sofa by Egg Collective, Candy Cube by Sabine Marcelis and vintage Danish armchair are placed on a vintage French rug from the 1940s, creating a comfortable gathering place for the family. The coffee table is by Home Studios and the Tulip planter, which holds a fragrant olive tree, is by Eny Lee Parker. In the dining room, a custom Swing Pendant by Home Studios hangs above a Column table in walnut by Fort Standard; vintage Model 80 dining chairs by Niels Otto Møller accompany. The Ceri Müller vase and Henry Wilson candle holders offer dimension and decorative function.
The intent of all Home Studios projects is to use color selectively, and the palette of Bond Street is deliberately neutral and calm. Farrow and Ball's iconic color, "Pointing", softly covers each of the resident's walls while the custom kitchen cabinets pop thanks to the paint brand's subdued blue-grey "Pigeon"—the shade's impact reminiscent of the colorful expression of Parisian courtyard doors.
The use of "Pigeon" also complements additional kitchen details, including the Rosa Aurora Macchia Vecchia honed marble countertop and Waterworks fixtures, with a custom copper hood perched above a Wolf range. The custom copper and nickel kitchen lighting is by Home Studios. Plants designed to be placed in the two window wells behind the kitchen counter imbue an additional sense of life to the space. Last, a vintage Vittorio Dassi desk and bookcase, along with a vintage Moroccan Beni rug, provide a cozy moment in the kid's bedroom.