Bose introduces a pair of augmented reality sunglasses focused around sound. Bose is calling it the first "audio augmented platform" and says its Bose AR prototype — "glasses to hear" — is the future of mobile sound.
Unlike other augmented reality products and platforms, Bose AR doesn't change what you see, but knows what you're looking at— without an integrated lens or phone camera. And rather than superimposing visual objects on the real world, Bose AR adds an audible layer of information and experiences, making every day better, easier, more meaningful, and more productive.
With an ultra-slim, ultra-light, ultra-miniaturized acoustic package embedded discreetly in each arm, the glasses can fit, function and look like standard eyewear, but sound and function more like Bose headphones. The glasses also have motion sensors built in that are able to know which way you're facing.
It also reads the GPS location from a smartphone, which is connected via BlueTooth. The sensors send the motion and location data to a Bose AR-enabled app that aggregates information, sending real-time content back to the user's ears 'instantly.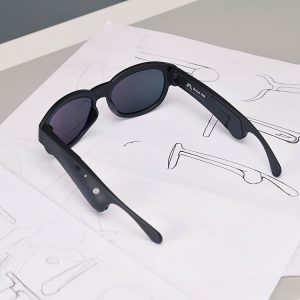 Bose envisions a variety of applications for the glasses, ranging from travel to education and music. For example, if someone is wearing the glasses while sightseeing, the device can simulate historic events at landmarks as you view them, or letting you listen to a renowned speech 'pinned' precisely to the famous person in a monument's statue.
The glasses could also inform a user which way to turn towards their departure gate at an airport.
Additionally, they could be used to translate a sign or tell someone the word or phrase for what they're looking at in any language, which is similar to Google's PixelBuds that can translate language in real-time.
Bose has invested $50 million to invest in companies that create apps, services and related technologies for its AR platform.