Toronto-based Studio AC has refurbished the interior of a local apartment for a young client who wanted something equally fun, functional and unique. The architects have so produced a scheme that revolves around an element called the "bed box", which features a generous arch entryway – a move that produces a signifier for the sleeping quarters and a moment of warmth in opposition to the white and concrete finishes of the rest of the loft. This warmth is achieved through a floor and wall wrapper of finish plywood.
"The curtain track is the same arch in plan as the other [in the box] is in elevation," said StudioAC's partner Andrew Hill. "This subtle cuing ties the two elements together, one hard and stationary, the other light and dynamic."
In front of the bed box Studio AC utilized a gracious full height sheer that conceals the more private functions of the sleeping quarters, closet space and storage. Using the sheer in an architectural way sees it become a way to define space, provide privacy and acoustic dampening – all of which elevates it as an element and turns it into a focal point and a functional conversation piece. This spatial play provides a functional and aesthetic flexibility that allows the relatively small studio loft to feel open while enabling the sleeping quarters to feel cozy and concealed.
"The back wall of the kitchen was re-finished in black to have it receded from the objectified elements of the island and the bed box," said Andrew. "This simple contrast allows both pieces to pop visually and provide some relief within a predominantly 'white' design."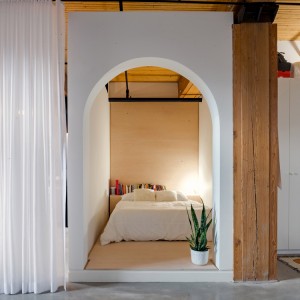 all images © Andrew Snow