Premium smart EV brand Byton has revealed the latest progress made on its first production car, the M-Byte SUV, including a new front-row design and new intelligent human-machine interface (HMI) technologies, at the 2019 International Consumer Electronics Show (CES) in Las Vegas.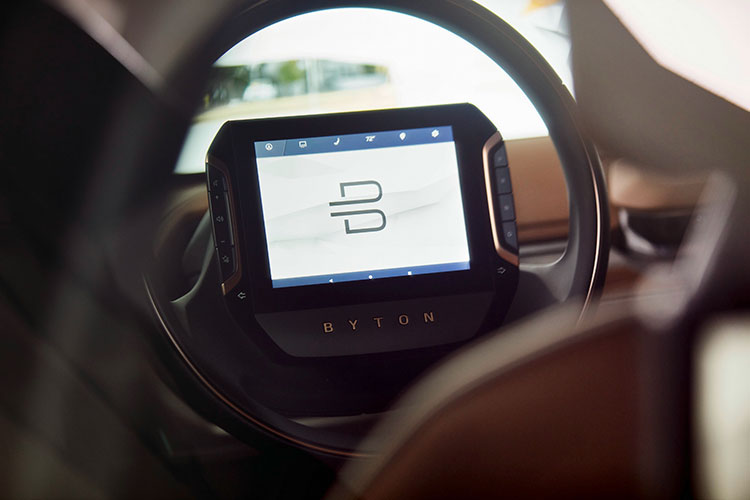 For its production models, Byton will retain the most compelling innovations of its original concept model, including the world's first 49-inch Shared Experience Display and the Driver Tablet on the steering wheel. The position of the large display has been carefully developed and tested to not affect driver line-of-sight and can automatically adjust brightness according to changes in ambient lighting to avoid further distraction.
The production M-Byte's user-interface and user experience (UI/UX) hardware will feature abundant shared and private screen space to capture and display a wide array of digital content – music, videos, photos, files, contacts, and more – intuitively and safely to users in any seat. Meanwhile, the interior of the production version has been further optimized to maximize the sense of luxury and technology, as the dashboard now adopts a wraparound design, integrating smart sensors and physical buttons with elegant curves and rich layers. 
In what will be a first for any production car, the M-Byte will also feature inward-rotating front seats, for when the car is operating in autonomous mode. The company plans to support level three autonomous driving at launch. Byton also revealed more details about the car's powertrain. The M-Byte's power will be stored in modular lithium-ion batteries that form part of the vehicle chassis, with 71kWh and 95kWh capacities promised. Byton says the car will have a range of 248 miles, increasing to 323 miles with the upgraded battery pack.
Byton users will have access to Byton Life, an open digital ecosystem that connects applications, data, and smart devices. Byton Life features advanced machine-learning capabilities that analyzes the user's schedule, location, preferences, and application data to provide intuitive support such as scheduling reminders, online shopping tasks, remote charging management, and more. It can recognize voices of different users and sounds from different directions in the car. In North American and European markets, Byton has been cooperating with Amazon Alexa to jointly develop voice control. In addition, Byton has also invited software developers from around the world to join Byton's ecosystem and explore new possibilities for applications and content on Byton Life's open platform. Byton has also announced that prices for the car will start at $45,000 USD.