Chinese practice Sò Studio draws inspiration from New York's underground urban landscape to design this clothing shop in Shanghai. Designed by locally-based Sò Studio to "bring the downtown New York lifestyle to Shanghai", Canal St. offers a selection of high-end streetwear.
"In New York, you see the coexistence of elements made hundreds of years ago during the industrial age with cutting-edge art, fashion and pop culture," said Sò Studio.
"Shanghai's unique ethos is built upon Chinese traditional culture as well as nearly a century of concession," added the designers. "There is the constant tension that everything new here has also been polished and precipitated by time."
The space of the subway located on the first floor of CANAL ST. was originally the stairs of the building which was long and narrow, which lies in the middle of the whole space. So, the studio has taken advantage of this horizontal space to create a transition space with the atmosphere of New York City subway carriage. Two plastic, orange-hued seats have been placed up against one wall. Overhead dangles a series of metal rings, mimicking the handles that standing subway passengers typically hold onto during journeys.
An illuminated yellow sign – akin to what would usually delineate the destination at the front of a train – has been used to point out the shop's changing rooms.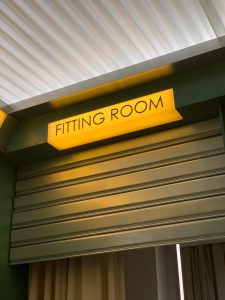 Other industrial details throughout the two-floor store include steel clothes rails, exposed bolts in structural columns, and wire mesh partitions.
The illuminated countertops of several display plinths have also been covered with sheets of gridded metal to mimic a manhole – covered openings dotted around New York that allow access to underground sewers.
Surfaces within Canal St were initially meant to be freshened up with a coat of paint. However, after completely stripping back the previous fit-out, the studio felt that existing dilapidated concrete walls better reflected New York's dichotomy of old and new.
"We typically try hard to create a narrative in a space, but this building could tell it itself instead," explained the studio. "We surprisingly figured that a hybrid structure with the mark of time turned out to be like a good narrator who attempted to tell us stories in its own way," it continued. "We thus decided to reserve the space original structure and walls, as we believed that when these old marks met with fresh design, it would produce a stimulating spatial experience."