Located within a commercial building in the heart of Hong Kong, the recently opened Castello 4 Italian restaurant and bar welcomes its guests with an astounding visual impact that appears when the elevator doors open.
The design starts from the center line of this space and used a bi-folding concept to create a symmetrical pattern in the shape of a vaulted ceiling, unusually designed with pillars in the shape of an inverted triangle. The Millimeter Interior Design team aim to emphasize the height of the ceiling to create space illusion. With effective use of a 5-meter high ceiling, the designer successfully transforms a unit within an ordinary building into a revolutionary hall with the intention to amaze and draw attention in an instant.
The original finishing of the space is retained to minimize the construction cost; adding to it are the cement board pillars and rusty plates that match perfectly with the existing concrete walls, giving it a raw and authentic feel. Rusty screens with laser-cut triangular pattern are placed in front of the large windows to conceal the discordant views and the structure of the building façade, yet ensuring that the space is still illuminated by natural light. The irregular combination of triangular patterns reinforces the outer space design. Custom marble dining tables with uniquely shaped metal stands are specifically designed to match the theme of the bar.
The distribution of lighting on the pillars highlights the differences between daylight and nightlight views, setting completely different moods and ambiance. With the natural light shining through during the day, the restaurant is vivid and brisk; dimming the lights after dark creates a dramatic change of setting, transforming this place into a chic and sophisticated bar.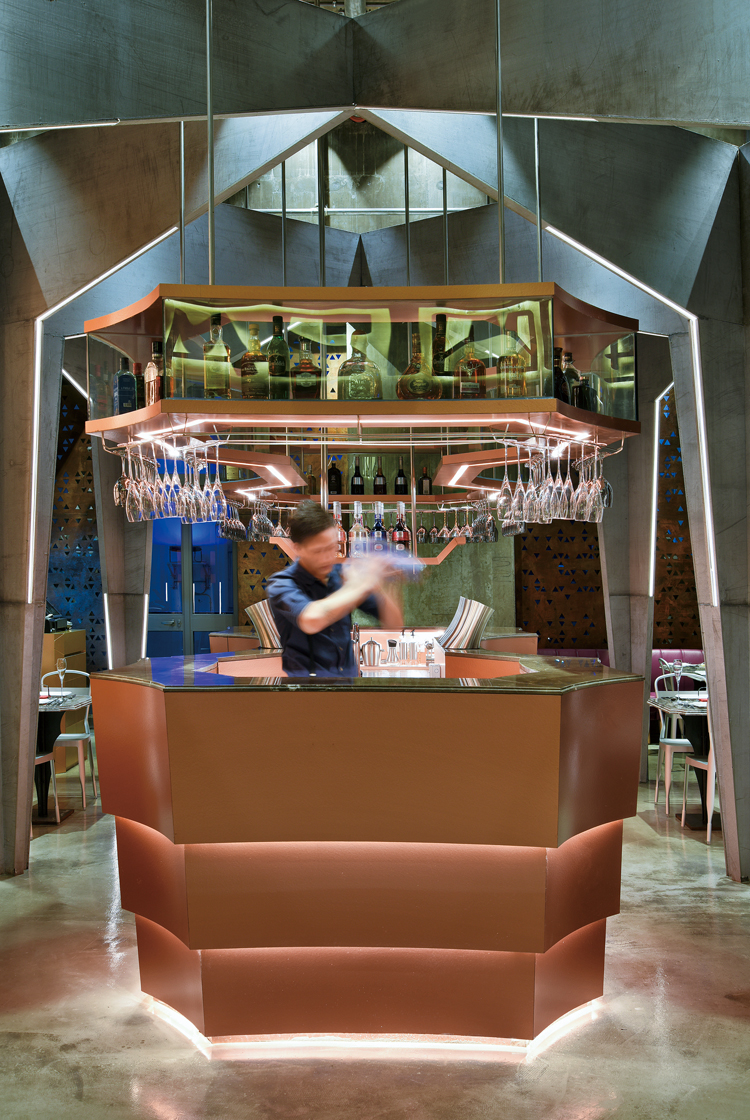 all images courtesy of Millimeter Interior Design