Known for her site-specific installations woven in yarn, Japanese artist Chiharu Shiota has created a wave above which 150 boats float through Le Bon Marché Rive Gauche department store in Paris.
Following exhibitions of her work at MIMOCA, the Marugame Museum of Contemporary Art in Japan and the 56th Venice Biennale, Chiharu Shiota brings her installation to Le Bon Marché. Entitled "Where are we going?", the exhibition creates a dreamlike experience for visitors to the department store. After studying painting and drawing in Japan and Germany, Chiharu Shiota found two-dimensional canvas too limiting and turned to thread and yarn as medium to draw in space.
Inspired by weaving, the dreamlike three-dimensional work represents 150 boats of every size and from different cultures, their empty hulls suspended under the central glass canopies of Le Bon Marché. All the boats face the same skyward direction, symbolizing hope and the future. Below this large-scale ephemeral installation Chiharu Shiota has woven a spectacular wave called "Memory of the Ocean" that visitors walk through as if they were under the sea.
The title of the exhibition evokes a fresh start, a journey with an unknown destination. Through her work, Chiharu Shiota explores the different connections we weave each day as human beings and individuals. Memories, actions and interactions, thoughts and dreams join together to form a unique, ephemeral web.
The exhibition will be on view until February 18, 2017. In addition to the work exhibited in Le Bon Marché, the artist and her team spent two weeks prior to the opening weaving creations in the store's ten display windows.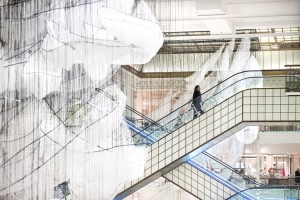 all images © Gabriel de la Chapelle