French automaker Citroën has teamed up with Italian design brand Gufram to revamp the interior and exterior design of the C4 Cactus, while redefining the original Airbumps with the unconventional approach of Gufram.
The strong character of the unconventional crossover bearing the Double Chevron trademark mixes with radical pop design to come up with a concept based on an innovative use of materials, as in the characteristic Airbumps reinterpreted for this occasion in the inimitable soft polyurethane textures of Cactus by Gufram, the iconic domestic sculpture hand finished in Guflac, a special patented process allowing for some truly unique and experimental aesthetic effects.
By hand modelling a material as malleable as clay, step by step, and balancing convexity with concavity as in a piece of sculpture, the innocuous bumps of Cactus by Gufram were reconstructed on the Airbumps of the Citroen C4 Cactus. With the aid of three-dimensional scanning and sophisticated numerical control machinery, it was then possible to reproduce the same depths, reliefs and hollows on flexible polyurethane foam sheets of varying density. The final step consisted in the manual application of Guflac, an all over layer of special paint that creates a flexible skin for preserving the softness of the material.
The final touch is conferred by the bodywork paint of the C4 Cactus Unexpected by Gufram which is gradient shaded from lime green on the back to bright orange on the hood, with an explicit reference to the Metacactus by Gufram, the Cactus limited edition produced in 2012 to celebrate its fortieth anniversary.
Not to be outdone, the interior design is just as fresh and original. The seats and door panels are completely upholstered in a microfibre fabric specifically conceived for automotive applications, in the same colours and gradient shading as the bodywork. The fabric has also been quilted in patterns of concentric circles whose circular stitching and top stitching are orange in colour.
On display during Milano Design Week 2017 (4-9 April) at the Spazio Quattrocento in via Tortona 31, C4 Cactus Unexpected by Gufram is an amazing and unprecedented interpretation of the C4 Cactus.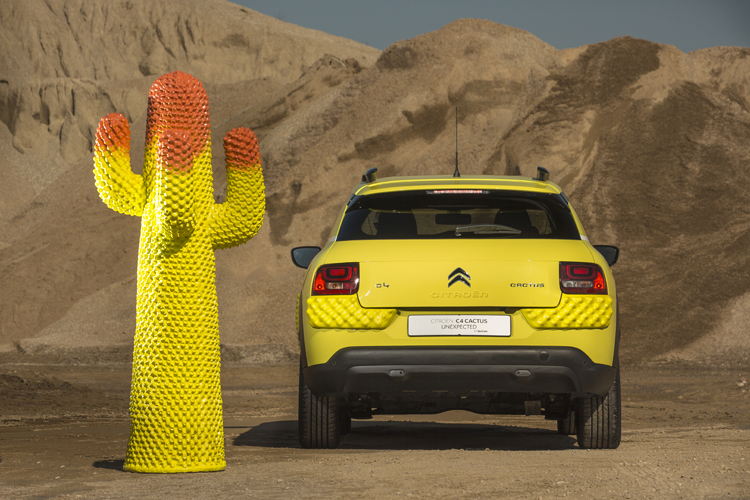 all images courtesy of Citroën