A decade ago, Vitra initiated a research project in collaboration with the Dutch designer Hella Jongerius to study the properties and possibilities of the colours, textures, finishes and materials in the company's product portfolio. This long-term project resulted in the Vitra Colour & Material Library, which comes to life during Milan Design Week 2016 in Vitra's 'Colour Machine' installation at the temporary location CasaVitra.
At CasaVitra, visitors encounter giant spinning tops twirling on the floor, which present the full range of Vitra materials in four colour worlds: lights, darks, greens and reds. These four worlds form the foundation of the library, organising textiles, plastics, woods and colours in many sizes and shapes. Suspended from the ceiling above the spinning tops, nine colour wheels revolve in space. These wheels celebrate particular parts of contemporary and classic furniture pieces by iconic Vitra designers – such as the base of Prouvé's EM Table or Eames Plastic Chair.
The Colour Machine installation will be on display during Milan Design Week 2016 at CasaVitra, Via Maroncelli, 14 (Close to Corso Como).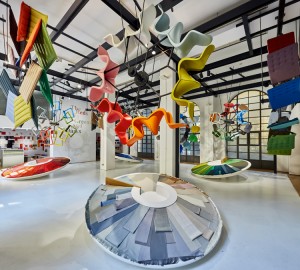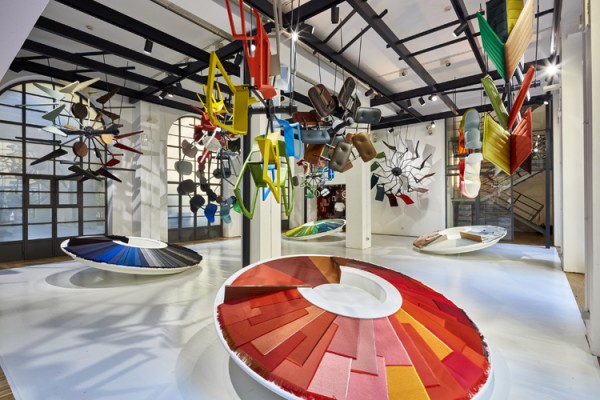 art direction by Hella Jongerius, concept and design by MüllerVanTol | photo courtesy of Vitra