Coinciding with the opening of Agnes Martin's retrospective at the Guggenheim Museum in New York, fashion brand COS has created a limited-edition capsule collection for women and men inspired by the artist's work. Informed by Martin's iconic geometric compositions, the COS design team has created a unique set of textile prints for the 12-piece collection.
Drawing upon the artist's use of line, colour and natural materials, the pieces feature grid-like patterns, a neutral palette and tactile fabrics including linen and canvas. Hand-drawn checks and hand-stitched stripes reference the subtle, organic irregularity that characterises Agnes Martin's work.
"In most of the photographs I've seen, she dressed for work," says Tracey Bashkoff, the senior curator of collections and exhibitions at the Guggenheim. "She cared about clothing, but in its practical sense."
The collection is available at the Guggenheim Museum Store in New York, select COS shops worldwide and at COS online for a limited time. The Agnes Martin retrospective runs today through 11 January 2017.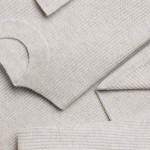 all images courtesy of COS | shot on location at the Solomon R. Guggenheim Museum, New York