Dutch designer Daan Roosegaarde and his team of experts have created the world's largest smog vacuum cleaner. The Smog Free Tower uses patented ion technology to produce smog-free bubbles of public space, allowing people to breathe and experience clean air for free.
Creating a tangible souvenir, Roosegaarde designed Smog Free Rings, Smog Free Cubes and Smog Free Cufflinks of compressed smog particles. By sharing Smog Free Jewellery, you donate 1000m3 of clean air to the city.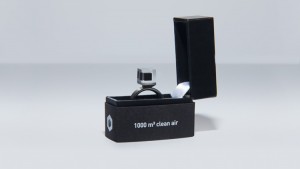 The 7 meters high smog vacuum cleaner is the largest air purifier in the world which creates a bubble of clean air enabling citizens to experience clean air for free. The Smog Free Tower cleans 30.000m3 per hour via patented ozone-free ion technology and uses a small amount of green electricity. The Smog Free Tower captures and collects more than 75% of the PM2.5 and PM10 airborne smog particles and releases clean air around the tower with a 360-degree coverage creating an almost circular zone of clean air in its surrounding.
The smog vacuum cleaner is inspired by Roosegaarde's numerous travels in China and particularly by a visit to Beijing in 2013 when he could not look up out of his hotel room and children were kept indoors due to the severity of the smog. More than 80% of people in urban areas are exposed to air quality levels that exceed World Health Organization limits. The Smog Free Project is a part of Roosegaarde's larger oeuvre 'Landscapes of the Future' which connects people, technology and space to improve the quality of daily life in urban environments.
all images © Derrick Wang | courtesy of Daan Roosegaarde