For her fashion design degree at Shenkar university in Tel Aviv, Danit Peleg decided to work with 3D printing to check if it'd be possible to create an entire garment using technology accessible to anyone. The first inspiration was Eugène Delacroix's Liberty Leading the People, modified by the designer to look like a 3D picture with a composition of many triangle.
Collaborating with the teams at TechFactoryPlus and XLN, and using FilaFlex, a strong and flexible new kind of filament, with the Witbox printer, Peleg started experimenting with different types of patterns. Combining Andreas Bastian's Mesostructured Cellular Materials the flexible materials, she could create lace-like textiles that she could work with – just like cloth.
To create the full collection it took more than 2000 hours to print (every A4-sized sheet of textile took at least 20 hours to print) so Danit Peleg step up her printer-game, to a full fledged "3D-printing farm" at home.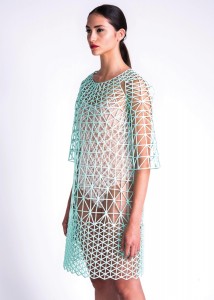 all images © Daria Retiner