The latest striking two-wheeler created by the hands of DMOL (Death Machines of London) is Airforce, a custom job on a Le Mans MK II base built in honor of Giovanni Ravelli, the co-founder of Moto Guzzi.
On the occasion of the 130-year anniversary of Giovanni Ravelli's birth (born in Brescia, Italy, on January 14th 1887, squadron mate to Giorgio Parodi during the First World War and, along with Carlo Guzzi, the inspiration of what would later become the future Moto Guzzi), the creation of the English workshop takes its inspiration from the aviation world in which Ravelli was an Italian wartime hero.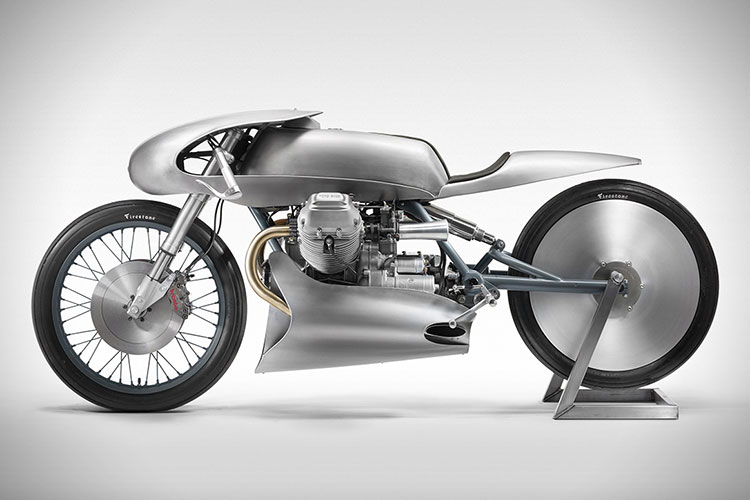 Built in 112 days and shown at "Bike Shed 2017", an independent motorcycle show held at London's Tobacco Dock at the end of May, Airforce is an elegant and prestigious project offering solutions that draw their inspiration from the skies. From the tyres reminiscent of period aeroplane tyres, to the lenticular rear wheel and the swingarm inspired by the world of aircraft, all the way to the use of hand-beaten aluminium and aerodynamics designed for top performance, the bike is a tribute to the experience of the Italian pilot, who was killed in action on 11 August 1919, and to his influence on his fellow adventurers, which led to the foundation of the motorcycle company in Mandello.
In 1921, Parodi and Guzzi established the "Società Anonima Moto Guzzi", choosing an eagle (the symbol of the Italian Naval Airforce and Royal Navy at the time) as their logo, in memory of their late friend.
all images © Ivo Ivanov