Santa Monica-based studio Dennis Gibbens Architects has refurbished this 5500 square foot house, originally designed in 1962, that offers spectacular views of Beverly Hills and Los Angeles. Curved and circular elements are repeated motifs that can be found throughout the original design.
The current owners bought the property with the intention of turning it into an open, airy and contemporary home for living and entertainment and to showcase their evolving collections of modern and contemporary photography.  The remodeled design is timeless and elegant with elements of swank to be sure, but with a very forward-looking sensibility.
At the exterior, the front façade was re-organized as a simple, platonic gesture in the curved shape of a monumental wall.  The elevation is clad in ribbed Indiana limestone panels.  The rough stone contrasts with the smooth-trowel painted stucco exterior of the remainder of the house.  At night, a warm glow provided by concealed up-lighting provides an inviting welcome to the property.
The residence, which started out fifty years ago as a relatively modest home is now enjoying another life. Other than the front courtyard, the majority of the exterior is a simple affair with sweeping white stucco curves and a long serpentine glass wall reflecting the generous scope of the views; the house is something of a gateway to the landscape.
It is so easy to simply pass through it, to be drawn to the outside – to the pool, the garden, and the mountains in the distance.  With that kind of view, the one-story exterior architecture assumes a modest position relative to the dramatic setting.  In contrast, the experience of the interior architecture is complex in its spatial flow and richness of materials and refined details.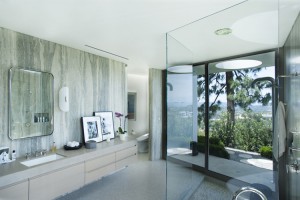 all images Courtesy of DENNIS GIBBENS ARCHITECTS