Michael Woolaway of California-based workshop Deus Ex Machina has unveiled his 21st custom build, the Bel Air 1200. This motorcycle was built for a customer who requested a bike similar to one of the first creations to roll out of Woolie's Workshop in Venice Beach California. For Woolie, building a bike with a Harley motor is a significant undertaking, and taken with honor to the maker's American racing heritage, particularly the era of KRTTs on the road racing circuit. This time around, Woolie was also inspired by another American icon: "I thought about what I loved about American Design, and it hit me. The 1957 Chevy Bel Air!" Says Woolaway.
The 50's style is evident in the fins in the seat cowl, handshaped by Woolie from aluminum. The tank is also a one-offer formed with the help of the english wheel, power hammer, and a healthy assortment of dollies and hammers, all eager to fulfill their purpose in the hands of the well-learned shaper.
When it came to the paint, Woolie went down to Anaheim Rod and Custom with a vague idea in mind and worked side-by-side and worked side-by-side its team until they concocted the perfect blend for the golden-era.
The chromoly frame features an internal dual oil feed system and accommodates an asymmetrical monoshock.  And not only is it significantly lighter than than stock, it is also much stiffer with road-racing geometry for high-speed straight-line stability and responsive handling in the corners.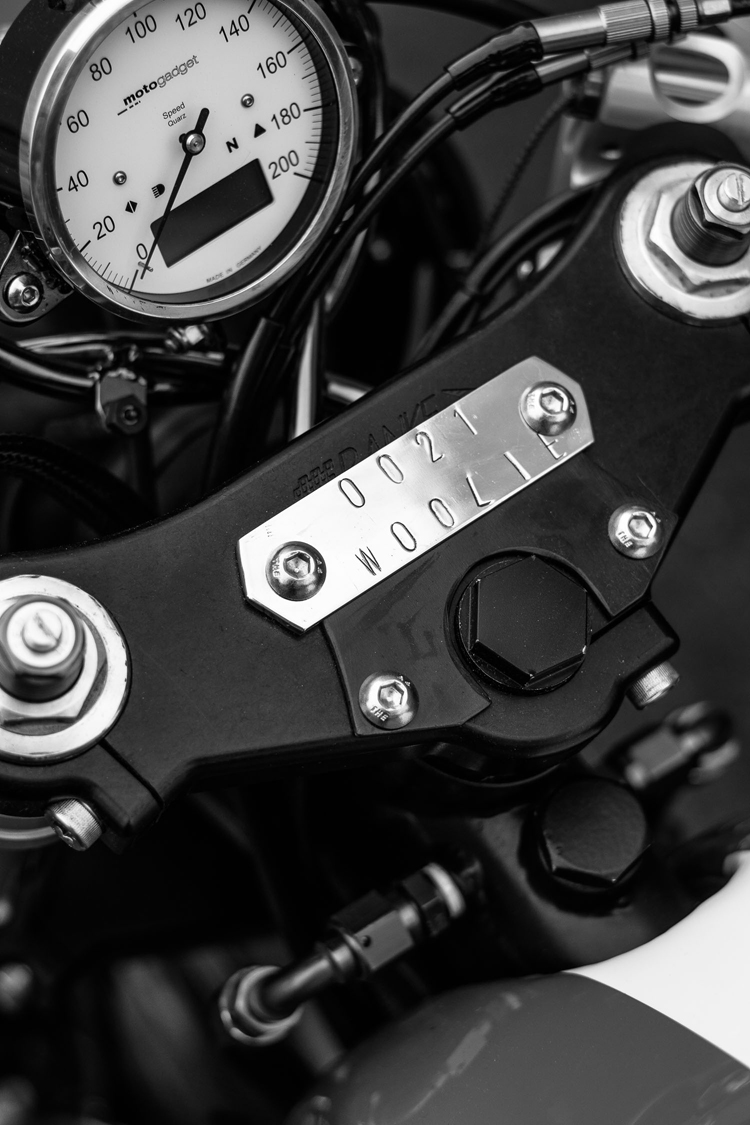 all images courtesy of Deus Ex Machina