Burkinabé architect Diébédo Francis Kéré has created a pop-up store for Spanish shoe brand Camper inside Buckminster Fuller's dome at the Vitra Campus. The cooperation between Vitra and Camper coincide with the Making Africa exhibition at the nearby Vitra Design Museum. The pop-up architecture integrates a flexible presentation system from Vitra, which plays an essential role in showcasing the many facets of the Spanish footwear brand Camper through a range of different media.
The design of the Vitra & Camper pop-up project presented a challenge to the architect Diébédo Francis Kéré. He was commissioned with the task of erecting a temporary structure beneath the light-flooded cupola of the Buckminster Fuller Dome from 1978, which has stood on the Vitra Campus since 2000. The aim was to create a contemporary brand architecture with a distinct identity that would not compete with the historic construction.
For the pop-up project, Kéré Architects developed a 'room within a room' – two nested wall structures with an ovoid footprint. The inner wall defines a central space, which remains open at the top. This is encircled by a ring-like covered walkway bordered by the outer wall. Multiple passageways connect the two spatial zones with one another and also act as a link between Kéré's temporary installation and the surrounding interior of the Fuller Dome. Strolling through the outer zone, visitors learn interesting details about the Camper brand, while the central area of the installation offers a direct, hands-on encounter with the shoes. In both areas, digital devices supply visitors with more in-depth information if desired.
The structure provides a surface area for multimedia brand messages as well as the presentation of merchandise. At the same time, it serves as storage space and allows the integration of a welcome desk and seating. The continuous horizontal shelving traces the organically shaped contours of the floor plan. The zig-zag configuration of the vertical panels, in turn, determines the shape of the individual compartments and makes it possible to utilise both sides of the shelving wall. Narrow gaps between the vertical elements give the construction a certain lightness and create a visual connection between the spatial zones. In addition, these panels provide surfaces for digital displays, photographic prints, graphics and texts as well as colour fields, enhancing the atmosphere of the space and defining the various zones.
Kéré is known for his use of natural and sustainable materials. Along with the wood wall construction, the floor in the central part of the installation is covered with mats woven out of seagrass, or 'esparto' as they are called in Mallorca. With such elements, he makes reference to Camper's ecological approach, but also to his own architectural works in Africa, which incorporate traditional and local building materials.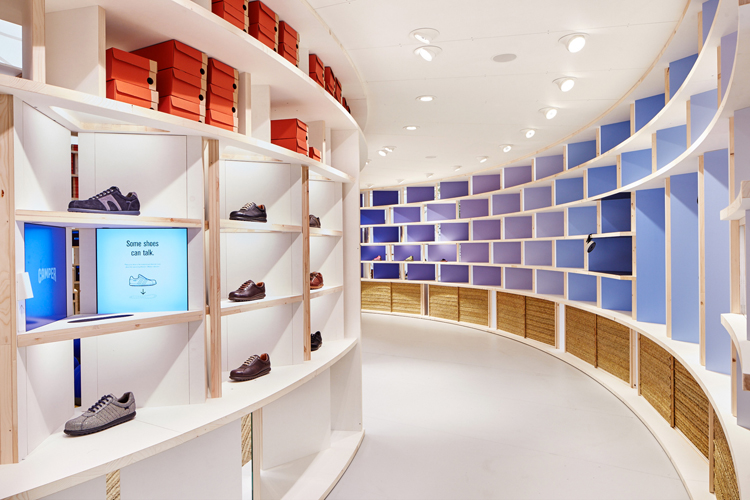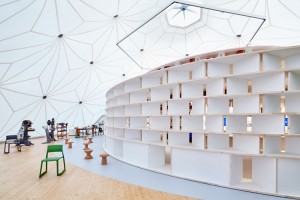 all images courtesy of Vitra