Shopping for windows is not always a rosy affair. There are lots of excellent window series to choose from, and things can become confusing.
Many Delaware windows companies carrying a range of 4 different Andersen window series. They include:
100 Series
400 Series
E – Series
A – Series
To help you distinguish one window series from the other, we list what each series has that makes it stands out from the next.
Andersen Window 100 Series
Price: $$
Andersen window 100 Series is growing popular in demand thanks to their build. They're made from composite Fibrex material. The Fibrex material is eco-friendly, sustainable and it's regenerated.
Fibrex material is rugged; it doesn't peel, fade, flake, nor does it blister.
The material is composed of 60 percent thermoplastic polymer, and 40 percent recycled wood fiber. The material is approved for use because it lowers VOC emissions.
Most buyers love the Andersen window series because they don't have to cure the wood, nor do they need to paint on it.
It also helps bring down VOC emissions since no wood treatments or painting is needed. Andersen's Windows 100 series line is eco-friendly, durable and energy efficient.
The windows at Delaware come in the following styles:
Patio doors
Awning
Single-Hung
Specialty Shapes
Casement
Picture
Gliding
Andersen 400 Series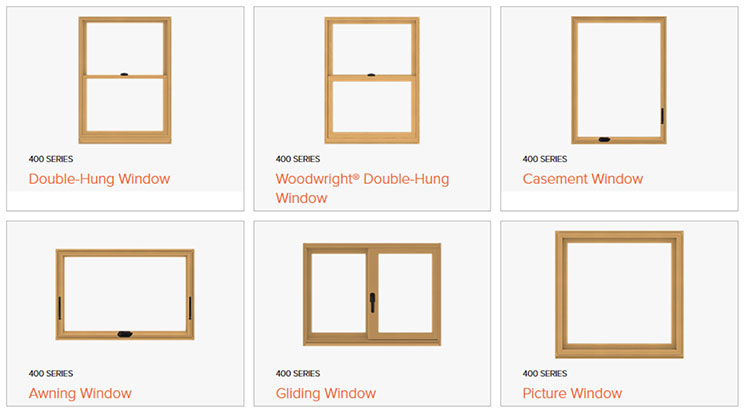 Price: $$$
The Andersen 400 Series windows feature a tough Perma-Shield exterior and elegantly designed wood interior. In the mid-20th century, Andersen formulated the Perma-Shield tough exterior enabling windows to have sturdy vinyl exteriors.
These exteriors are not only low maintenance but don't need to be painted on. We stock this series in more color options thanks to its popularity.
Buyers use it for replacing windows with wood interior. Its main difference from the 100 series is the trim kit options. The styles we have in our shop include:
Frenchwood Doors
Double-Hung
Bay Windows
Casement
Specialty Shapes
Picture
Woodridge
Gliding
E – Series (Eagle Windows)
Price: $$$
The E-Series is Andersen's most popular window line thanks to its broad range of customization. It features an extruded aluminum exterior and has the most extensive color pallet in all Andersen window series.
Buyers love the E-Series thanks to the numerous customizable shapes they can get it in. Its interior comes in 6 plus wood species thus allowing the most matching finishes options. You can get it in the following styles:
Monumental
Awning
Picture
Double-Hung
Casement
Patio Doors
Gliding
Specialty Shapes
A Series (Architectural Series)
Price $$$
The premium A-Series window line comes with wood interiors and is made from fiberglass. The A-Series Anderson window line differs from the rest of the series thanks to its' architectural detail.
The window line resonates more with historical designer and architectural professionals who want the window installations to showcase their intents (historical or architectural).
The exterior of the windows is made from Fibrex and Perma-Shield exterior making them sturdy and durable. The premium window line is also the most energy efficient Andersen window series. We stock these styles:
Awning
Patio Doors
Casement
Special Shapes
Double-Hung
Picture