Los Angeles-based luxury eyewear brand Oliver Peoples has unveiled its newest boutique designed by Milan-based design firm Dimore Studio in the Miami Design District. 
Incorporating the contemporary and metropolitan elements of Miami combined with the California DNA of Oliver Peoples, the Miami boutique features cool crisp colors, mirrors, colored long haired fleece, laminate and steel.
The boutique's design is inspired by a laboratory space with a long center table and stools, while shelves also extend through a wall resembling safety deposit boxes, some closed and some open to showcase the eyewear.
"The store fits the Vernacular of Miami and the sophisticated and bold aesthetics of the brand. The white facade compliments the contemporary and metropolitan imprint of the store," says Britt Moran and Emiliano Salci of Dimore Studio.
"I always admire their incredible work and the way they are able to look at the past with a modern eye and create the perfect balance between design, fashion, and architecture. At Oliver Peoples we share the same design philosophy so it was a natural fit," says Giampiero Tagliaferri, Creative Director, Oliver Peoples. "The collaboration frames are the final touch to complete this special project with Dimore Studio. The idea was to customize two classic Oliver Peoples frames with color combinations that represent the aesthetics of Britt and Emiliano."
Specially designed versions of Oliver Peoples' Rockmore and Scheyer frames will be available at the boutique as part of a collaboration with Dimore Studio. As well as the Rockmore style being available in antique gold metal with vibrant green lenses, the Scheyer in washed espresso acetate with brandy colored lenses will be sold exclusively for shoppers in the brand's Miami Design District store.
In addition to the exclusive styles from the Dimore collaboration, the boutique will carry a diverse selection of sunglasses and optical for men and women including the classic frames that have been relaunched this year as part of the brand's 30th Anniversary collection.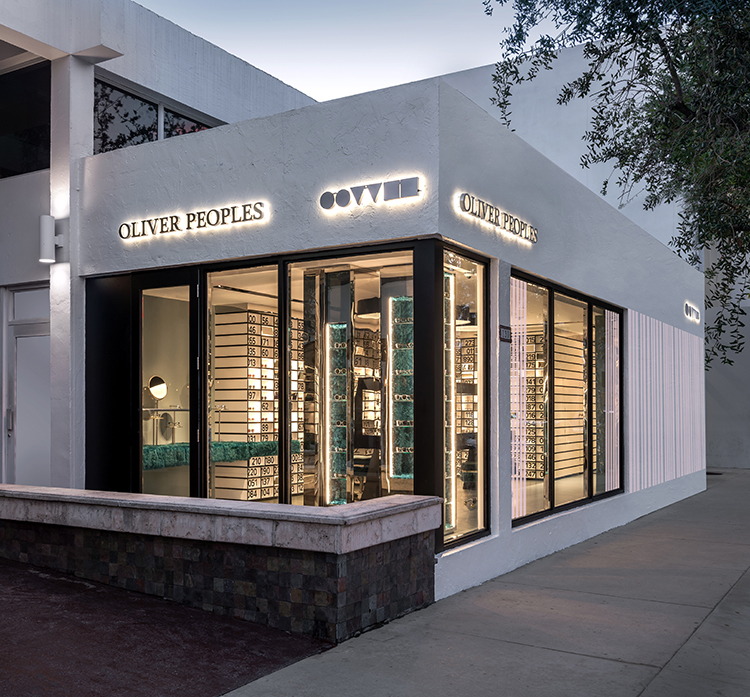 all images courtesy of Oliver Peoples