From now until July 14, 2019, the V&A Museum will host an exhibition exploring the work and enduring legacy of fashion designer Christian Dior. Dior: Designer of Dreams is the museum's biggest fashion exhibition since Alexander McQueen: Savage Beauty in 2015. From 1947 to the present day, Christian Dior: Designer of Dreams traces the history and impact of one of the 20th century's most influential couturiers, and the six artistic directors who have succeeded him, to explore the enduring influence of the fashion house.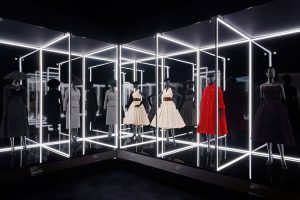 Based on the major exhibition Christian Dior: Couturier du Rêve, organized by the Musée des Arts Décoratifs, Paris, the exhibition is reimagined for the V&A. A brand-new section explores, for the first time, the designer's fascination with British culture. Dior admired the grandeur of the great houses and gardens of Britain, as well as British-designed ocean liners, including the Queen Mary. He also had a preference for Savile Row suits. His first UK fashion show took place at London's Savoy Hotel, and in 1952 he established Christian Dior London. 
The exhibition investigates Dior's creative collaborations with British manufacturers, including Dents (gloves), Rayne (shoes) Lyle & Scott (knitwear) and Mitchel Maer (costume jewellery). It also focuses on his most notable early British clients, from author Nancy Mitford to ballet dancer Margot Fonteyn.
A highlight will be the Christian Dior dress worn by Princess Margaret for her 21st birthday celebrations, generously on loan from the Museum of London following conservation work. The exhibition also brings to life Dior's spectacular fashion shows staged in the UK's most luxurious stately homes, including Blenheim Palace in 1954, of which several ensembles are now in the V&A's collection. 
Drawn from the extensive Dior Archives, the exhibition presents over 500 objects, with over 200 rare Haute Couture garments shown alongside accessories, fashion photography, film, vintage perfume, original make-up, illustrations, magazines, and Christian Dior's personal possessions. It also showcases highlights from the V&A's world-class Couture collections, including the iconic Bar Suit, gifted to the museum by the House of Dior in 1960 with the help of Cecil Beaton. 
The exhibition highlights Dior's total design vision, encompassing garments, accessories and fragrances. Flowers are emblematic of the Couture House and have inspired silhouettes, embroidery and prints, but also the launch of Miss Dior in 1947, the first fragrance created alongside the very first show. 
From horticulture to global travel and 18th-century decorative arts, the show reveals the sources of inspiration that defined the House of Dior's aesthetic. From the daring designs of Yves Saint Laurent to the rational style of Marc Bohan, the flamboyance of Gianfranco Ferré, the exuberance of John Galliano, the minimalism of Raf Simons, and Maria Grazia Chiuri's feminist vision of fashion, the exhibition shows how each successive artistic director has stayed true to Dior's vision of Haute Couture, while bringing their own creative sensibilities to the House.