One of Romania's most known book & stationery retail companies, Diverta, has been given a new lively and colorful interior design concept and visual identity branding. Diverta Cluj was envisioned by 441 Design Studio as a minimalist and colorful place, where the local community can enjoy both the pleasure of reading and the excitement of choosing the perfect stationery.
The concept started developing while visiting the project location – The Wolphard-Kakas House, a beautiful historic building located on the eastern side of Union Square, in Cluj Napoca, Romania. Its architecture was defined in three stages, starting from 1534, until 1600.
The first phase of construction bears the mark of the Gothic style, the second stage, the north Italian Renaissance style and the third is rather Baroque. The space destined for Diverta is contrasting because of the association of two different architectural periods – the historical, Gothic area with imposing vaults, and a contemporary, cold space, located at the entrance. The challenge for the design team was to create a connection between these two spaces, to enhance the old area of the building while bringing to light the clean characteristics of the new, minimal space. 
The groin vaults became a source of inspiration, which led the architects to choose the arch as a defining element for the design. The semi-circular arch is a simple shape that blends perfectly in both architectural styles. The existing Gothic vaults are now enhanced by the thin arches, while the arches used in the contemporary, entrance area, offer continuity to the entire space, making all the design elements harmonize and create a uniform concept. This choice went on influencing the furniture design, where the arch was incorporated in various playful, yet elegant ways. As a result, a strong concentric architectural language was established, and it repeated itself throughout the entire space in a variety of details and shapes.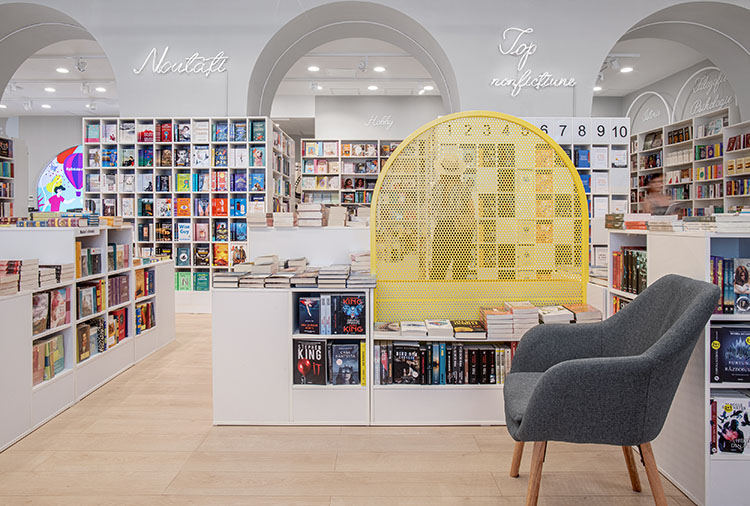 Moreover, to accentuate this language, the studio used flexible led lighting as a way of creating direction and curiosity for customers. The spacious main area, starting with the entrance, was considerably bigger than the surface of the small adjacent rooms, leaving them somehow hidden from the public eye. Therefore, 441 Design Studio kept the concentric passages from the old building's architecture and transformed them in light portals that created a powerful perspective depth and functioned as an invitation for exploration. In addition to the areas for books or stationery, the space provides the visitors with "reading sofa islands" that are discreetly marked through the arch recurrent shape and calm pastel colors. 
 The result is a clean and colorful space that combines different ways of interaction with the building and cheerful spatial experiences designed around the books on offer.