Domenico Dolce and Stefano Gabbana are well know for paying tribute to their Italian heritage, especially that of Sicily. The duo have teamed up with Italian appliances brand Smeg to produce 100 refrigerators hand-painted by Sicilian artists for the upcoming Milan Design Week.
"Every piece is unique, but they all tell a story consistent with our brand identity. They might be kitchen appliances, but there's something that is immediately identifiable as Dolce & Gabbana, from the Sicilian barrows to the Trinacria symbol to the marionettes to the Italian lemons and fruits," explains Domenico Dolce.
Each fridge took about 240 hours to be painted, making each unit a one-of-a-kind artwork. Each fridge will be available through Smeg and Dolce & Gabbana for about $34,000 USD.
"These are really the perfect collector's pieces," says Stefano Gabbana. "And even though our companies are in different sectors, there are still similarities, like a passion for creativity and innovation, attention to quality and details, and, of course, a love of Italy and Italian-made products."
The first examples of the Dolce & Gabbana x SMEG collection will be presented during the Salone Internazionale del Mobile 2016, from 12 to 17 April in Milan.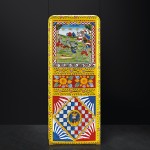 all images courtesy of Dolce & Gabbana