New York and Naples-based architecture firm LOT-EK has designed "Drivelines Studios", a modular residential building in Johannesburg, South Africa, using 140 upcycled shipping containers. Located in Maboneng, an area of recent urban transformation and renewal, it responds to the post-apartheid generation's desire to repopulate the city's downtown through new models of urban living.
Embracing the triangular geometry of the site, the building is conceived as a billboard where two separate volumes of residential units are hinged at the narrow east end of the lot, framing the social space of the open interior courtyard. As in a billboard, the building outer facades are straight and flush with the lot line while the facades in the inner courtyard are articulated by the staircases, the elevator tower and the bridges connecting all levels, and by the open circulation paths activated by the units spillover onto their outdoor space.
The building is modular and made of 140 upcycled shipping containers. Containers have been selected by colors to be left unpainted, with availability dictating the ultimate building color. They were stacked and cut on site, and combined to form the units. A large diagonal cut-out, from the corner to the center of each container long side, generates the large windows for the units on street and courtyard sides. Its repetition and mirroring generate the building façade pattern.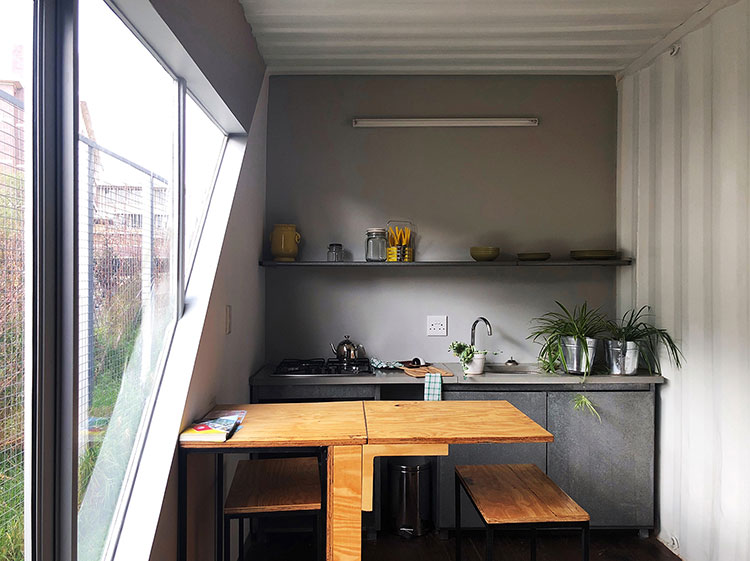 The ground level is occupied by residential at the rear, retail along the Albertina Sisulu Road, and the private courtyard for the residents with planted areas and a pool. The 6 levels above are occupied by the residential units, all open plan studios varying in size between 300sqft and 600sqft. All units include an outdoor space along the courtyard facing walkways.
The building' social intention and agenda is in line with the emerging urban community of its surrounding neighborhood, taking an active role in the revitalization, reactivation and reimagining of the city downtown.