French firm f+f architectes has converted a former attic of an art nouveau building in Strasbourg from 1901, into this light-filled duplex apartment. The organisation is simple: all rooms are located on the entrance level of the apartment, whereas the top floor is one open loftspace with kitchen, living and dining area.
The 240-square-metre apartment is accessible via the lower level through a double-height entrance hall with a skylight. This level is divided into four bedrooms, two bathrooms and a home office.
The master bedroom is conceived as a little suite with a walk-in wardrobe and adjoining bathroom. Natural light flows through a large glazed panel in the roof, while the existing small windows offer a view of the surrounding park.
The upper floor is organized with the kitchen on one side, a fireplace and living room on the other. The living room faces a large terrace that is partly sunken into the roof.
Throughout the project, the material palette has been restrained: wood flooring, black-dyed MDF for fixed furniture, and large sheets of thin ceramic in the bathrooms and kitchen top. The existing varnished pinewood flooring, that had changed color over time, has been kept and renovated. The pine boards have been treated in a Scandinavian fashion, with lye, to block the pigments and prevent the wood from yellowing — then soaped for the finish. This gives the panels a pale-white and semi-mat quality that is quite soft to the touch. The same black MDF material applied for fixed furniture is also used for the stairs, with the railings made of laminated glass.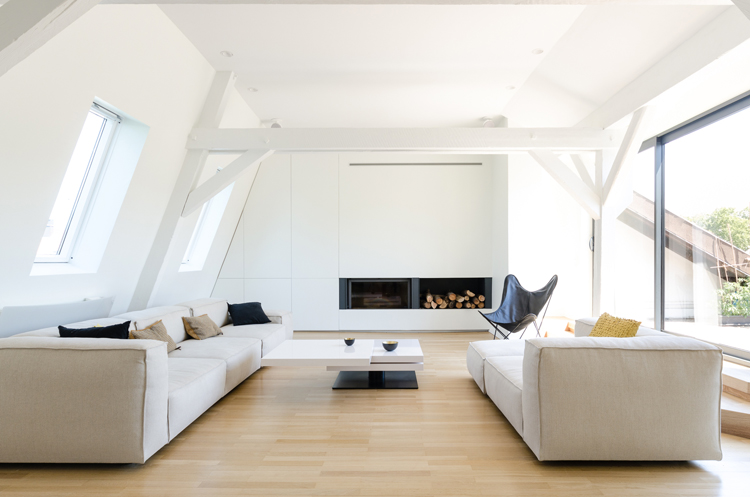 all images © Johan Fritzell