Spanish studio Raúl Sánchez Architects has transformed two derelict apartments in the heart of Barcelona's Raval into a colorful duplex. Both dwellings were in an absolute state of neglect and disrepair. The client's requirement included focusing the main social spaces in the mezzanine area of the home.
The architect imposed two extruded squares (rotated 45 degrees) within the space, one housing the staircase and the other housing the bedroom.
The very rotation of these squares results in the specialization of the space around it without needing any additional doors or enclosures (except those that provide the required privacy to bathrooms and bedrooms), since the new volumes, as they approach and move away from the perimeter walls, define these areas. The proposal's emphasis runs parallel to the sought-after inner spatial complexity and a firm intention to underplay the different areas and circulation.
The treatment of colours and materials highlights the two extruded volumes, which are coated in glossy, gold finish paint mixed with gold powder and varnished, surrounded by white cladding (micro-cement and paint) covering and coating the existing perimeters. The inside of the staircase dug into one of the volumes, is a dark world of black contrasting with the exterior whites, just as the bed area in the bedroom, excavated into another of the volumes and covered with painted OSB wood boards and varnished in black. The door frames (all glass) and openings are either brass or black steel, depending on the area to which they give access; hinges and handles are also brass or chrome.
On the ground floor, three existing paintings of Brazilian origin have been preserved, and the proposed inside circulation places them right at the stairs exit. These paintings are the reason the client, of Brazilian origin herself, initially decided to buy these two properties and undertake the project.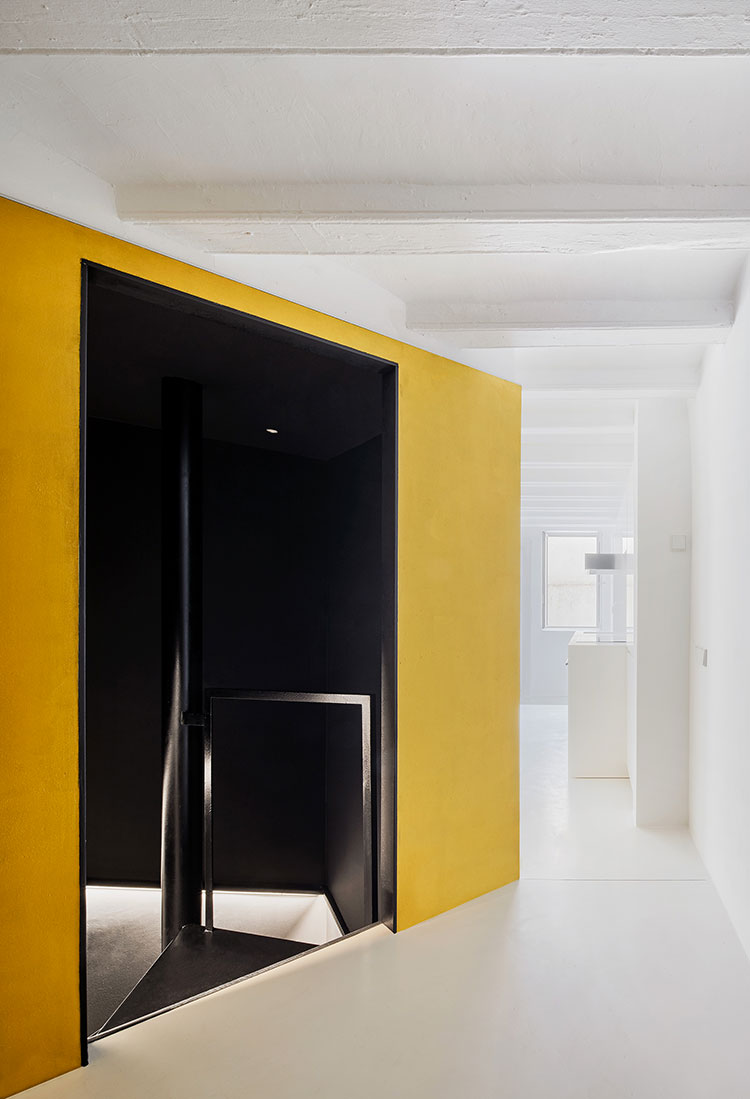 all images © José Hevia