Canadian dog brand Earth Rated has teamed up with design agency Layer on a clean and simple rebrand that emphasizes recycling and natural products and includes a series of dog toys. The extensive two-year project saw Layer, led by designer Benjamin Hubert, expand the brand's product portfolio beyond commercially compostable poo bags to include a range of other dog-walk supplies designed with sustainability in mind.
This holistic branding system is centred around a simple yet effective brandmark that captures the playful nature of Earth Rated. In the new execution, the brand name is expressed in a minimalistic, san serif font with a characterful dog silhouette integrated into the negative space of the "T" and "H" letterforms. This subtle representation of a dog is an evolution of the more overt cartoon canine mascot that dates back to Earth Rated's beginnings.
The new identity is defined by fresh greens and vibrant yellow accents. This creates a distinctive, ownable signature that aligns with the brand's focus on sustainability and, like the logo, is a logical evolution from the previous brand identity. Importantly, yellow is one of the few colours visible by dogs, who see the world differently to humans.
Earth Rated is proudly B Corp Certified, a designation that measures a company's entire social and environmental impact—and these sustainable values are at the heart of the rebrand by LAYER. The new products are made from recycled and recyclable materials, post-consumer waste, and natural materials, including natural rubber, and the packaging is made from recycled plastics, post-consumer waste, recycled cardboard, and natural ink.
The Earth Rated rebrand was also about making great design accessible and affordable for a wide range of dog owners. The poop bag dispenser, for example, retails for just $5.99, and a pack of 315 scented or unscented poop bags retails for $18.99.
Earth Rated is known around the world for their distinctive poop bags and dispensers – both of which have been reimagined by LAYER. The new poop bag dispenser is an intuitive and identifiable design that features a clip to hold used bags whilst walking and a textured strap that can be attached to a leash or bag. The bags – available in compostable, lavender-scented, and unscented versions – are dispensed through a slot in the side, offering easy access and the opportunity to create a "billboard" for the Earth Rated brand as the bags unroll.
LAYER also designed a new collection of dog toys that celebrates the sustainable values that drive the brand. Joyful geometric forms are combined to create objects that invite interaction, while textured surfaces offer tactile touchpoints that encourage an intuitive user experience for both pet and person. The sustainable material palette comprises recycled and recyclable materials, compostable and post-consumer recycled plastics, and natural rubber. All toys are dishwasher safe for ease of cleaning and can be recycled at the end of their life.
The five toys offer a variety of interactions for dogs and their humans – Fly, Tug, Fetch, Treat, and Chew – and subtly reimagine classic typologies for added functionality. The Fly Toy, for example, features a raised rim that allows easy purchase by a dog; the Chew Toy has a twisted form that allows the dog to effectively hold the toy in their paws whilst chewing; and the Fetch Toy is made up of two intersecting forms to create an unpredictable bounce that adds excitement during play.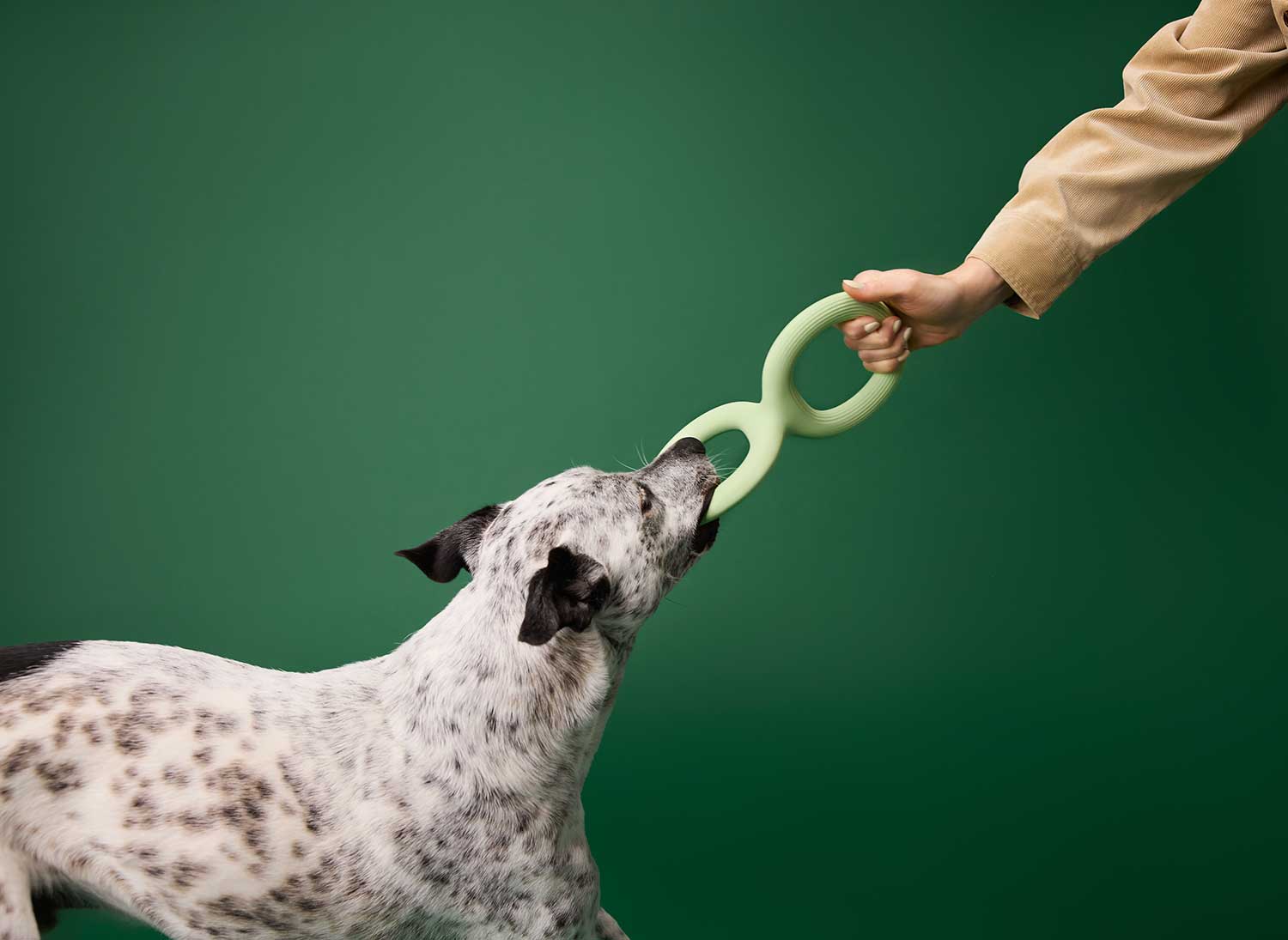 "The pet category is a really joyful space and, being a dog owner myself, it was a really exciting opportunity to work with Earth Rated," Hubert told urdesignmag. "LAYER worked across product, brand, packaging, and point-of-sale to create a consistent and compelling new direction for the next chapter of Earth Rated and the new brand is a testament to the power of holistic design. It's been a deeply rewarding collaboration and the results celebrate our shared values of responsible, sustainable, and affordable design."