Lisbon-based architecture firm Plano Humano Arquitectos has recently converted an old service edifice in Lisbon, Portugal, into a new housing building that features a dynamic facade with automated wooden shutters.
The structure, called Edificio Lisbon Wood, was transformed from a state service building – the tourism general offices, into a new housing building that contains 15 residential units and 2 shops, connected by common leisure spaces, such as gardens, a gym and a spa.
"We opened the building to the outer space. We extend it on balconies that increase the space of habitation, which thus also happens outdoors, in contact with the open air, a relic in the center of the city. Interior and exterior are in constant dialogue," said the studio.
"We worked the materiality according to its characteristics of comfort, robustness and longevity. the minimalist interior contrasts while connects with the powerful exterior in thermo modified wood."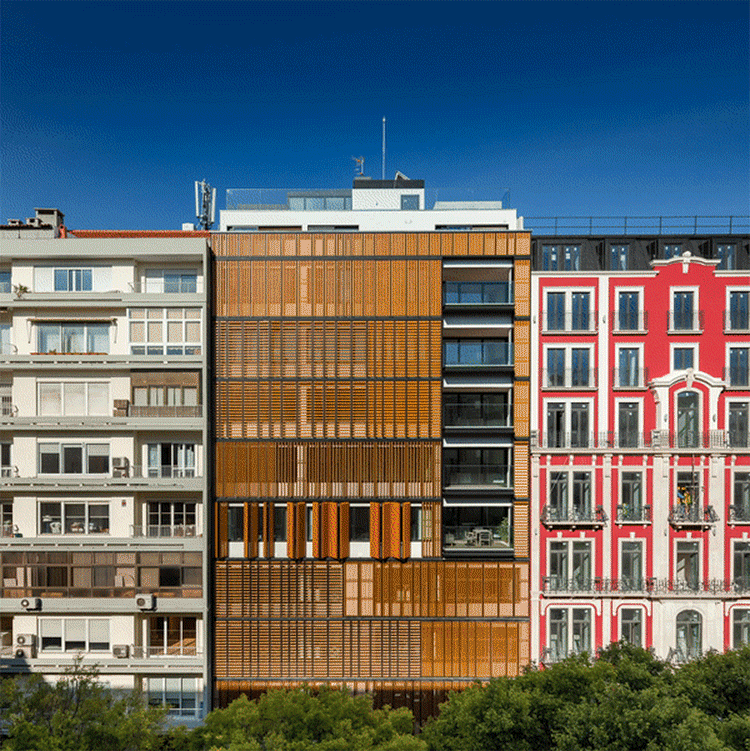 Wood is the hallmark of the building. Traditional and noble material, allied to the current technology, in the cladding of facades that will always be dynamic, different for each moment of the day and for each apartment. The facade is dynamic, it has constant movement, which makes it a mutable, almost living building, that transcends its inner life to the exterior.
The wood is applied in automated shutters, that while privatizing the interior spaces, increase the building's energy efficiency. They limit or allow the interior solar incidence, depending if it is summer or winter, what in a mediterranean city like Lisbon has a great preponderance in thermal confort.