Montreal online furniture brand, Élément de base, opens a brand new pop-up shop designed by the talented duo behind Creative Flats in the Old Montreal. For this project, Creative Flats envisioned a bold and vibrant decor for edb. Two rooms fully colored: one in vintage green and one in soft pink. Wall-to-wall carpets, painted scaffolds, matching colored furniture and painted walls create a unique and joyful installation. Neon lighting adds a touch of 80s retro and a pinch of kitsch to the mix.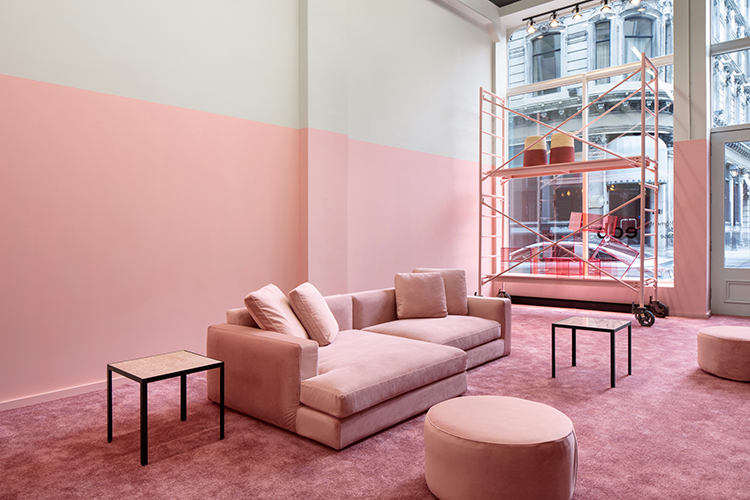 In terms of products, edb will be exhibiting multiple new pieces and fabrics during this temporary pop-up. To discover for the first time: the Dive sectional in a blush-pink velvet and the Panorama sectional in an emerald-green velvet. Soft and cozy colors and textures just in time for the winter season. Also launching during this installation: the brand new plush Continental sofa and sectional filled with feathers. With its compact size, flexible orientation and angled back, this model combines aesthetic and practicality.
As always, the sofas and sectionals from edb have fully removable covers and can be ordered in a multitude of colors and fabrics.
all images © Adrien Williams Photographe