Pasadena-based robotics company Embodied has unveiled Moxie, a fun, safe and engaging animate companion for children designed to help promote social, emotional and cognitive development through everyday play-based learning and captivating content. Now, more than ever, the importance of technological advancement in at-home learning and care is paramount. Embodied has assembled a world-class team of experts in child development, engineering, technology, game design, and entertainment to create Moxie. Moxie is a robot with machine learning technology that allows it to perceive, process and respond to natural conversation, eye contact, facial expressions and other behavior as well as recognize and recall people, places, and things. In creating Moxie, Embodied collaborated with Yves Béhar's renowned design and innovation firm fuseproject. 
"We're at a tipping point in the way we will interact with technology," said Paolo Pirjanian, CEO and Founder of Embodied, Inc. and former CTO of iRobot . "At Embodied, we have been rethinking and reinventing how human-machine interaction is done beyond simple verbal commands, to enable the next generation of computing, and to power a new class of machines capable of fluid social interaction. Moxie is a new type of robot that has the ability to understand and express emotions with emotive speech, believable facial expressions and body language, tapping into human psychology and neurology to create deeper bonds."
Embodied created SocialX, a platform that enables children to engage with Moxie through natural interaction (i.e., facial expressions, conversation, body language, etc.), evoking trust, empathy and motivation as well as deeper engagement to promote developmental skills. With SocialX, Embodied is introducing a whole new category of robots: animate companions. "Animate" means to bring to life and SocialX allows Moxie to embody the very best of humanity in a new and advanced form of technology that can fuel new ways of learning.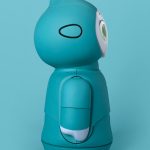 With Moxie, children can engage in meaningful play, every day, with content informed by the best practices in child development and early childhood education. Every week is a different theme such as kindness, friendship, empathy or respect, and children are tasked to help Moxie with missions that explore human experiences, ideas, and life skills. These missions are activities that include creative unstructured play like drawing, mindfulness practice through breathing exercises and meditation, reading with Moxie, and exploring ways to be kind to others. Moxie encourages curiosity so children discover the world and people around them. All these activities help children learn and safely practice essential life skills such as turn taking, eye contact, active listening, emotion regulation, empathy, relationship management, and problem solving. 
Embodied has also partnered with Encyclopaedia Britannica and Merriam-Webster to integrate Merriam-Webster's Dictionary for Children, enabling Moxie to provide age-appropriate definitions and related information to help children learn and understand the meanings of new words and concepts. This is the first of many integrations with Moxie that deliver on Encyclopaedia Britannica and Merriam-Webster's shared mission to inspire curiosity and the joy of learning. 
"Moxie is a game-changing technology that has the potential to transform the way that children build social, emotional and cognitive skills," said Wendell Brooks, Intel senior vice president and president of Intel Capital. "As an early investor in Embodied, it's exciting to see how the company is leveraging machine learning to create innovations that enhance our daily lives. Moxie is a true reflection of that."
Moxie will be available for pre-order on embodied.com and similar to smartphones, pricing will include device pricing plus an operating subscription plan. For launch, purchase will include a year's subscription that provides access to over-the-air software updates that will add new and improved features and content, monthly Moxie Mission Pack mailings, special access to the Global Robotics Laboratory (G.R.L.) child portal site, and behavioral analytics via the Embodied Moxie parent app. Customers interested in purchasing can place a fully-refundable reservation at embodied.com to gain access to the exclusive pre-order launch. Embodied is currently taking applications for kids interested in being a part of their Moxie Pioneer Mentor Program, a community of families with the unique opportunity to experience an early version of Moxie for free.