A contemporary and eye-catching water bottle has its looks flirting with details and contrasts while using minimalistic shapes and rich materials: a thicker surface with slim lines, a matt finish with glossy details and basic geometric shapes.
Designer Darja Osojnik was inspired by a modern interior design – the contemporary day office, an elegant coffee shop, eclectic style apartment – and created the bottle to match your everyday environment.
EQUA Smart Water Bottle reminds you to take a sip of water with a subtle glow and tracks overall water intake to help build healthy hydration habits. Its smart features go beyond what we expect from a water bottle. This bottle will boost your overall wellbeing – being heavily connected to water intake – to the next level. EQUA connects with your smartphone to enhance the hydration process with the EQUA app. Once you define your personal characteristics and lifestyle, the app will create a personalised hydration program with the recommended daily water intake for you.
Combining smart technology with a sleek, attractive design, EQUA is crafted with a combination of light and durable stainless steel, a marble top and metallic handle. With three color options, Snow White, Dark Grey and Pink Blush, the 23 oz, double-insulated EQUA Smart Water Bottle is BPA-free and will keep its contents cold for up to 24 hours and warm for up to 12.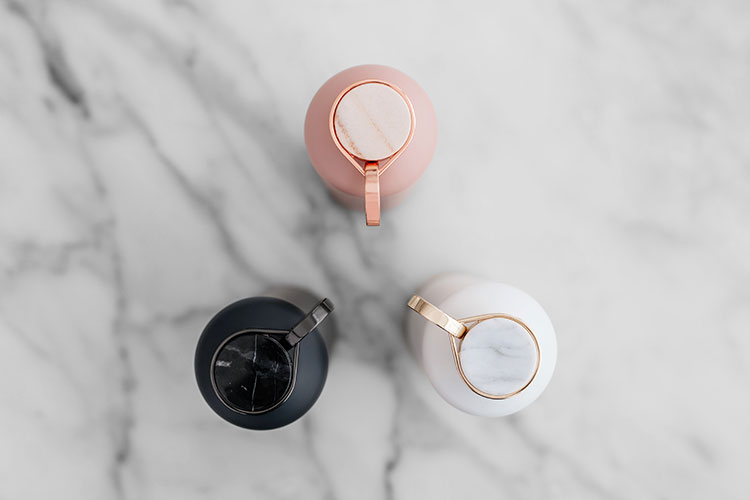 Offering a break from the constant barrage of notifications we receive each day, EQUA's water bottle is smart by itself. When it's time to take a sip, a ring of light at the bottom of the bottle will glow. If you are not sure whether you are keeping up with your daily hydration goal, a gentle tap on the bottle will reveal how well you are doing with a slow glow if you're on track or a quick glow if you need to catch up.
EQUA is now available for pre-orders on Kickstarter.