Paco Roncero, renowned chef from Madrid with two Michelin stars and three suns in the Repsol Guide, has opened Estado Puro, one of the culinary offerings of the new Hard Rock Hotel Ibiza. Spanish design and architecture studio estudiHac has designed Estado Puro gastrobar, a local with a capacity of 300 people and two types of environments: one of them to enjoy spanish tapas and another one more casual.
estudiHac has created these environments playing with pure materials. Natural travertine, exquisite creation of textures based on the octagon, the carefully furniture selected and special works tailor-made oak and teak. All this brings a fresh and elegant look to this new Estado Puro.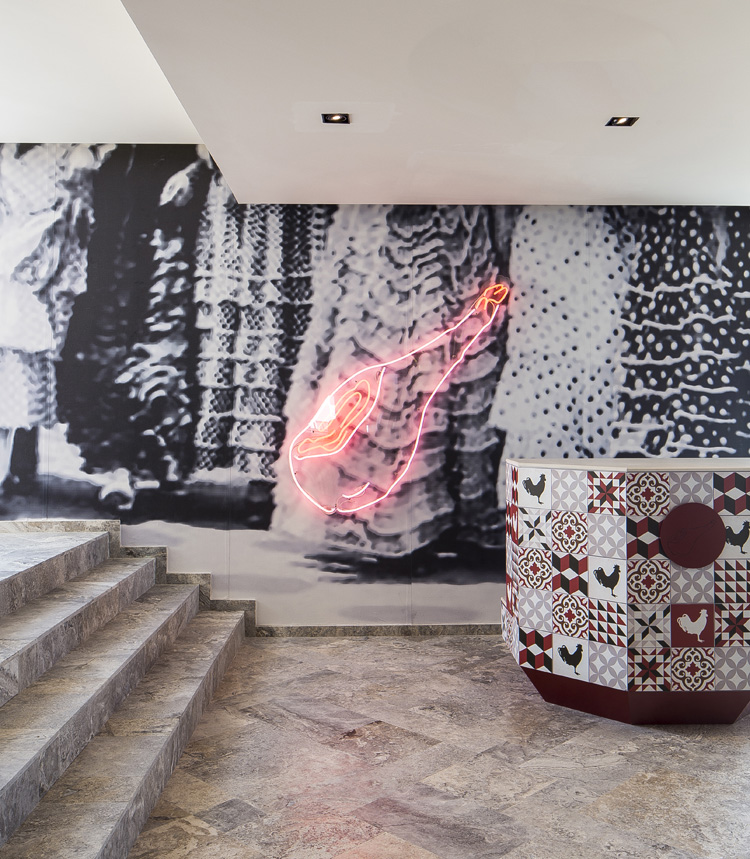 Touches of the legendary brand Hard Rock are not missing inside the local. estudiHac has created the known as Ham-rock corner, where it has designed a large neon ham that remember to the famous Hard Rock guitars, just next to the big podium for the go-go/master ham and a large sculpture of a red chicken, 'the chicken-teacher', which shows the 'neo-cañís' phrases. All of these popular phrases are throughout the restaurant. In the middle of the restaurant it has created a huge palm coated of spanish combs, main logo of Estado Puro.
For the outdoor terrace estudiHac has sought inspiration in the work that Paco Roncero has done in the field of olive oil and textures, creating a great space chaired by four large olive trees, the olive oil origin.
all images courtesy of estudiHac