Volume and void expands on FEIT's West Village store designed by Australian designer Jordana Maisie, creating an iconic design that marries raw and natural materials with digital technology. The interior has a unique identity, prioritizing process, craft, and innovation, while pushing the tension between what is hand and what is machine made.
The shoes store "has a clean aesthetic featuring geometric shapes created by volume and void," said Maisie, who is from Australia but now based in Brooklyn.
Similar to the process of moulding leather to a last, when 3D modelling the store, volumetric moulds were used to carve out display spaces within the slatted timber mass, the removal of the mould revealing the display space created.
The choice to design a store that could only be fabricated by employing CNC technology was a conscious one.  Maisie was interested in exploring the synergy and tension between what is hand and what is machine made. Each unique shape was CNC cut, hand sanded and assembled into modules offsite by the fabrication team, which enabled a complex build sequence to unroll on site.
Mirror was used to open the space up and amplify the transparency of the birch ply installation.  Both the architectural and lighting design play with your perception of depth, as you try to distinguish where the boundaries within the space lie.  From an electric lighting perspective, the experience of the store will differ by season as adjustable white LED's change in color temperature in accordance with summer, fall, winter, and spring. This detail adds an element of comfort to contrast the discord of the city outside.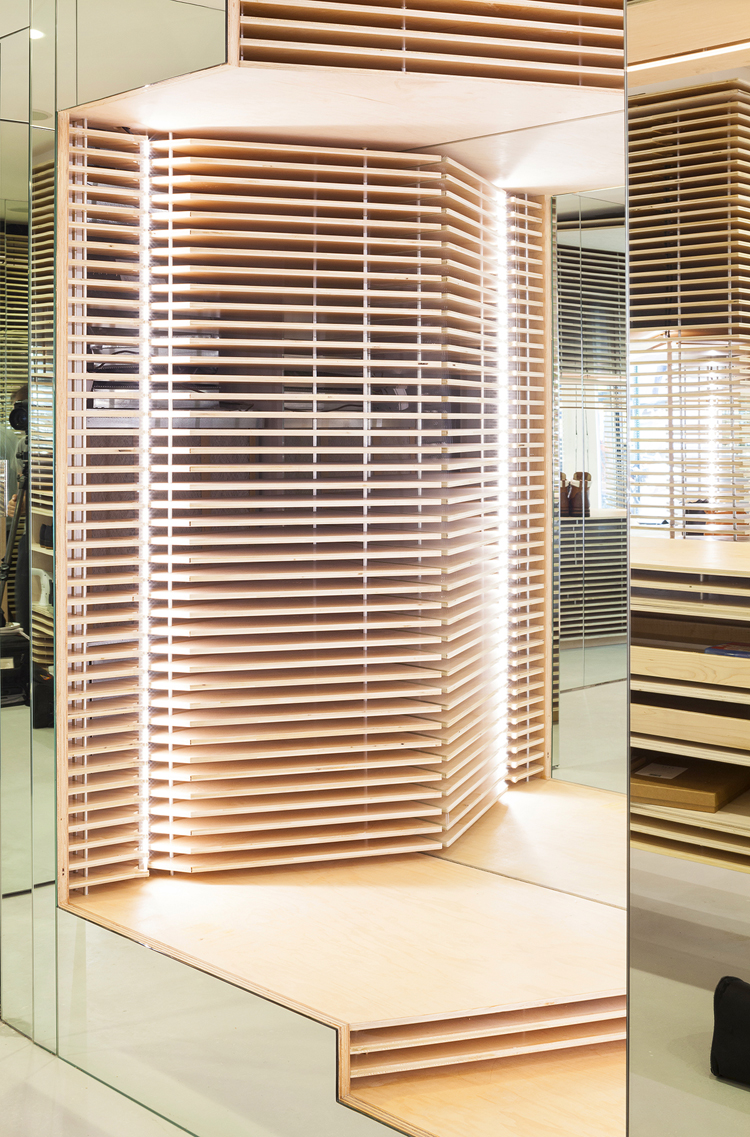 all images © Nicholas Calcott