Chilean firm Felipe Assadi Arquitectos has designed a long concrete house on a sloping site overlooking the Pacific Ocean, composed of a succession of longitudinal and transverse beams that together generate a single structure hovering gracefully above the ground.
"As always, we prefer to inhabit a structure instead of structuring a room," explains Felipe Assadi. "In this way, we consider the technical feasibility of a project as its actual design resolution; feasibility is not separate from project design. This means that before becoming a house, the project is its own structure."
The structural beams are supported by four walls, creating a dramatic 7-meter cantilever. These walls support the entire structure and project downwards to the floor, creating a base with bedrooms, on one hand, and resting on an east-west transversal volume on the other. The latter volume frames the entrance to the house on one side, and on the other, projects towards the sea and contains the pool, a heavy wedge with a variable section that builds a new cantilever, also 7 meters towards the slope, reinforcing the views of the house towards the sea.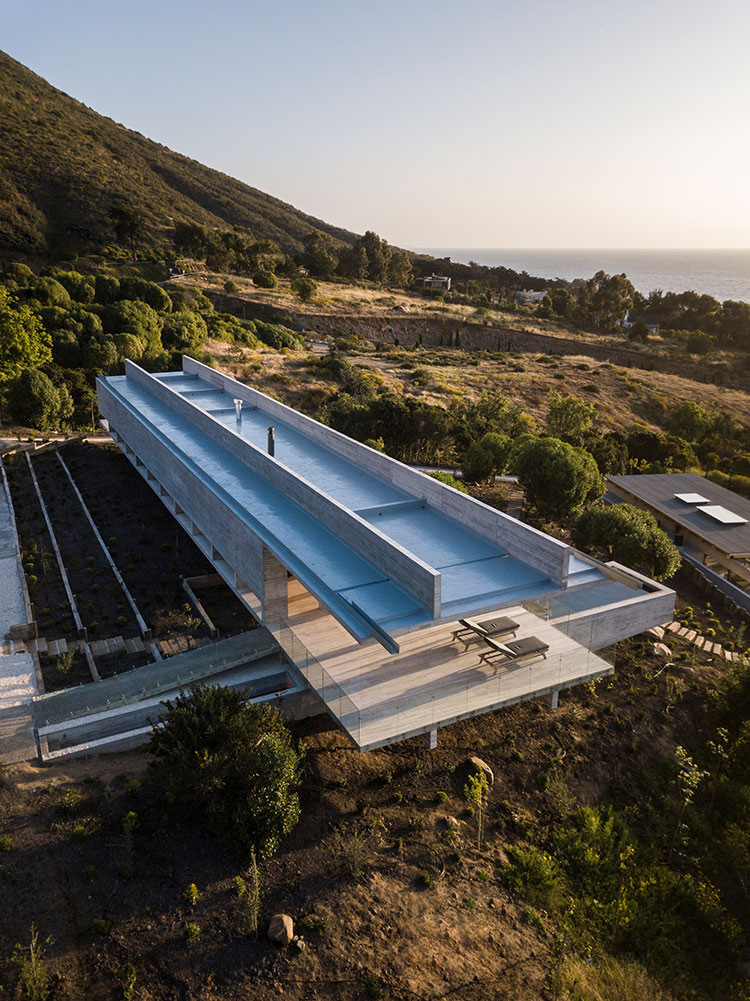 Without partitions or columns, the access level contains all of the home's common areas, such as the lounge, dining room, and kitchen, in addition to the master bedroom plus its bathroom. The lower level, with access from the outside, contains a family room and secondary bedrooms. The great beam-wall that frames the main facade of the project is, in turn, a long piece of wood furniture that runs throughout the house, serving the enclosures according to their use.
A vertical circulation consisting of a staircase and a ramp rises at the connection between both levels, where transverse structures meet the pool volume. The staircase and ramp arrive at a courtyard that crosses underneath the main structure from east to west, reinforcing the idea proposed by the project: to levitate on the slope.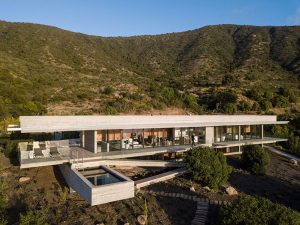 all images © Fernando Alda