Ferrari has unveiled its latest One-Off creation designed in-house by the Ferrari Styling Centre, the 458 MM Speciale. This one-of-a-kind Italian supercar was built on the chassis and running gear of the 458 Speciale. Stylistically, the client was looking for extremely sporty lines and specified a 'visor' effect for the glasshouse: a black-painted A-pillar, very much in the style of the 1984 Ferrari GTO, helps provide a wraparound solution between the windscreen and side windows which thus meld into single, seamless glass surface. This solution simultaneously lowers the roofline and lends an aerodynamic sleekness to the full volume of the swept-back C-pillar.
Finished in Bianco Italia and complete with a livery that pays homage to the Italian flag, this unique coupé features all-new bodywork, handcrafted in aluminium with composite carbon-fibre bumpers front and rear. The 458 MM Speciale also boasts a new side air scoop, one of the most distinctive elements in an extensive revision of the aerodynamic package.
The radically modified aerodynamic solutions are already evident on the front of the car, where the bodywork hugs the coolant radiators which are more steeply inclined and mounted closer together than on the 458 Speciale. The side intakes were devised to allow direct additional cooling of the engine bay to compensate for the different rake of the rear. The tail features a spoiler which balances the downforce evenly and also completes the theoretical beltline that sweeps back along the side from the front wheelarch, giving the car a powerful and athletic stance.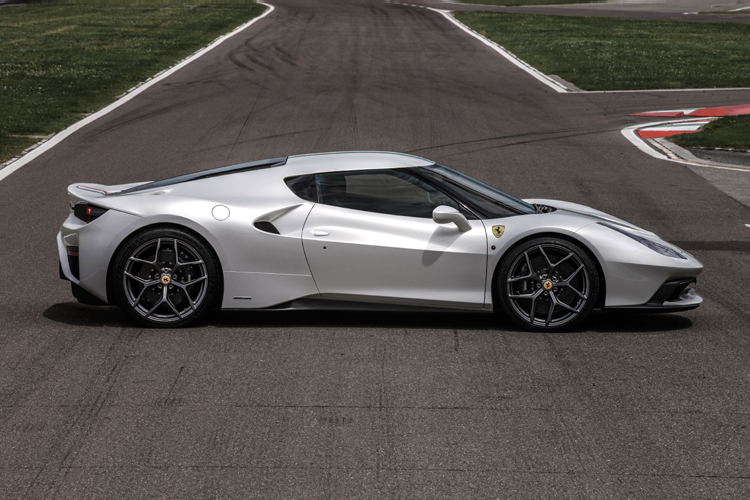 The 458 MM Speciale sits on specific wheels exclusive to this very unique car, and an additional touch is the adoption of modified front and rear light clusters. Inside the cockpit upgrades include to an enhanced audio system and trim definition to match the owner's specific wishes. The Cioccolato leather upholstery with white stitching is elegantly accented by a slew of neat touches such as the satin white rings around the tunnel controls.
all images courtesy of Ferrari