Whether it's an ocean view from a rocky cliff or a yard that's surrounded by an ancient forest, there are homes out there that have some incredible front yards. From elegant or quirky landscaping in natural surroundings to formal lawns with lush, green sod, these yards offer a bit of everything. Take a look below at some homes we found that have incredible front yards.
House #1
New Kensington, Pennsylvania, United States
The home of Kevin Anthony Prall and his husband, Layne Bennett, in New Kensington, PA, is an award-winning home. Their home, built in 1812, was selected from more than 900 entries as the 2019 winner of the Better Homes & Gardens America's Best Front Yard Contest.
Former Florida resident, Prall, wanted to incorporate the palm trees he enjoyed in his former home, so he found a variety that could withstand the cold Pennsylvania winters with some protection. This front yard is a tropical design and a mix of colors and textures, with curved beds that include Japanese maples, ferns, geraniums, azaleas, in addition to the palm trees.
House #2
Girona, Spain
Referred to as the "sunflower house," this unusual home sits on top of a cliff in Girona, Spain. With its contemporary cube design, this house was created to let in as much light and sunshine as possible, leaving the inside of the home with a light, modern feel. This home's yard consists of amazing views of the Mediterranean, as well as France and the Cabo de Creus National Park, which are visible from the top floor of the home.
House #3
Vancouver, Canada
Known as one of Vancouver's three "hobbit houses," this English cottage-style home was designed by architect Ross Anthony Lort and built by builder Brenton Lea in 1941. This unique home is in the style of Provincial Revivalism, which was popular in North America between WWI and WWII. It is built completely from Canadian materials and features steam-bent cedar shingles designed to look like a thatched roof. The home has eclectic, colorful landscaping and provides a breathtaking view of Vancouver's north shore mountains.
This homemade the news a few years ago when it was saved from demolition. A developer purchased the home and incorporated its restoration into its plans for a 20-unit complex of townhomes. It is on Vancouver's Heritage B list, which designates it as historically or culturally significant.
House #4
Sandhurst, Sandton, Johannesburg, Gauteng, South Africa
The landscape of this Sandhurst mansion features a traditional, symmetrical garden that includes a variety of plants and shrubs. The traditional design includes a low boxwood hedge, large stone topiary planters, and pink flowers along a gravel footpath and a fountain in the middle of the garden. This grand home has a formal structure that includes tall elements, French doors, and a black roof, which complement its landscape.
House #5
Bali, Indonesia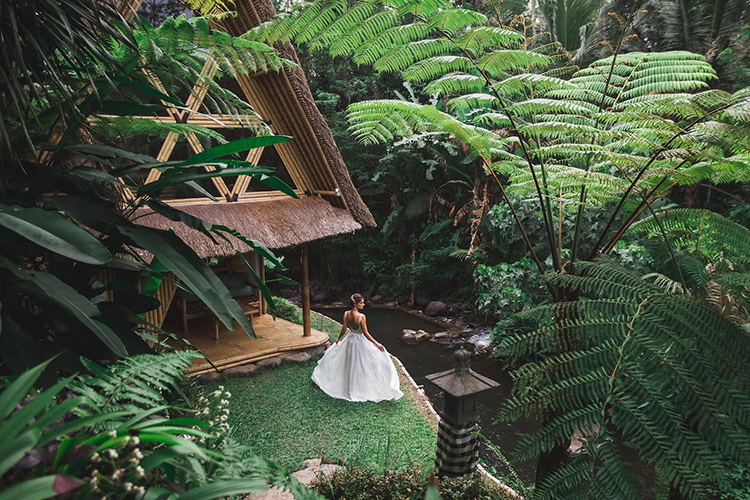 This eco bamboo sanctuary is surrounded by the beauty of nature, with a view of rice fields and a tropical forest in Bali. It is hidden along a river in the mountains of the Gunung Agung volcano, and if you are interested in a unique "glamping" experience, you may choose to stay here through Airbnb, as the home is available as a destination for visitors.
From a quirky "hobbit house" with an eclectic landscape to a South African home with a symmetrical, elegant garden, there are so many homes that feature incredible yards, with beautiful views or original landscapes.  These five homes are all examples of some of the most incredible yards around.